Things to do in Madrid
Madrid is a city that has it all, for all people and all tastes. The best way to get to know Madrid is by walking.
Gran Vía is one of the main streets of Madrid. It starts at Calle de Alcalá and ends at Plaza de España. If you walk along Gran Vía you will be able to find numerous shops of international fashion chains, the Telefónica and the Metropolis building, the last is an emblematic building and one of the most important in Madrid.
Puerta del Sol is one of the most famous squares in the capital and in it you can find some of the most significant points and buildings of the city like Casa de Correos, the famous Kilometer Zero and the Statue of the Bear and the Madroño, a symbol of the city.
If you are in Madrid you have to go to Plaza Mayor, this square is the heart of Madrid is an ideal starting point for a visit the town.
We recommend you stop at Mercado de San Miguel, which is located near the Plaza Mayor, it is a perfect place to stop along the way and enjoy the gastronomy of the city.
The Almudena Cathedral is located in the historic center of the city; in front of the Royal Palace, that it is the official residence of the King of Spain, although the current kings do not live in it, so it is used for state ceremonies and solemn acts.
Chueca and Malasaña are neighborhoods of bars, cafes, and trendy shops. It is a magnet for people of all ages and is known for its fun atmosphere and variety of excellent restaurants, cocktail bars and clubs.
In the Plaza de la Independencia is the mythical Puerta de Alcalá, near this you can walk along in Paseo de Recoletos and Paseo del Prado and see Cibeles, one of the most symbolic places in the capital.
Parque del Retiro It is one of the of the most beautiful places in the city, classic place of walk.
Enjoy Madrid!
Plaza Mayor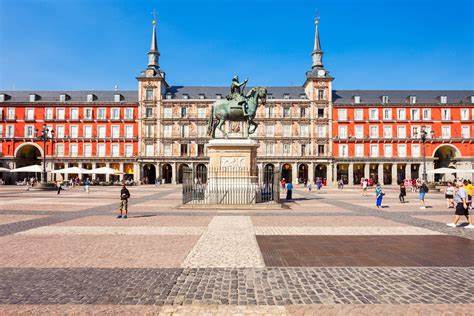 Gran Vía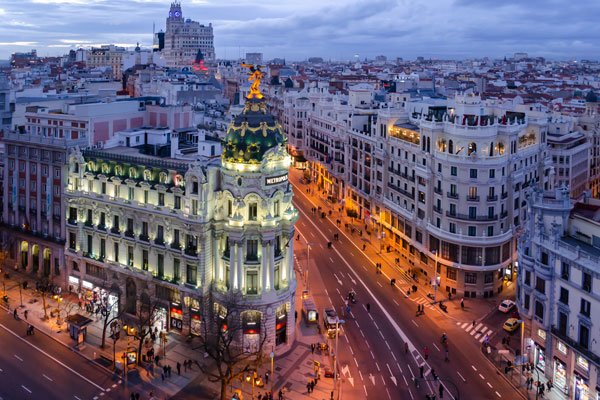 Cibeles