Benidorm is located in the Valencia Region and in the province of Alicante, 38km from Alicante and 106 km from Valencia.
Benidorm is one of the most important tourist destinations in the Mediterranean and has an excellent connection with the rest of Spain and other countries for easy access. By road, Benidorm is well situated on the Mediterranean coast liked by the AP7 motorway and the national road N332 which connect the Mediterranean coastline from north to south so that visitors traveling by car or scheduled bus service can reach the resort with ease.
There are connections with most national and European cities. Train connections are also via the city of Alicante. The nearest airport is Alicante International airport, just 60 km away served by numerous airlines daily.
There are also ports in Alicante, Altea and Villajoyosa should one wish to reach us by boat.
BY PLANE
It is located near the city of Alicante only 60 km. Benidorm. There is a regular bus service which offers the possibility to travel quickly, comfortably and economically from Alicante airport to Benidorm and vice versa. You can also transfer services with companies like Beniconnect Transfers, amongst others.
BY BUS
Situated in a convenient location at the entrance of Benidorm, the new bus station has easy access from the motorway AP-7 (Benidorm-Playa de Levante exit), from the N-332 or from town.

Good public transport such as local buses or taxis means you can reach the bus station in a few minutes. The urban bus routes, 3, 4 y 11 to the bus station.

Bus Station: Paseo Els Tolls No. 1
Tel: 96 683 00 14
There is that connects Benidorm and arrives/departs from the Benidorm bus station as well as the Avenida de Europa bus stop in the town.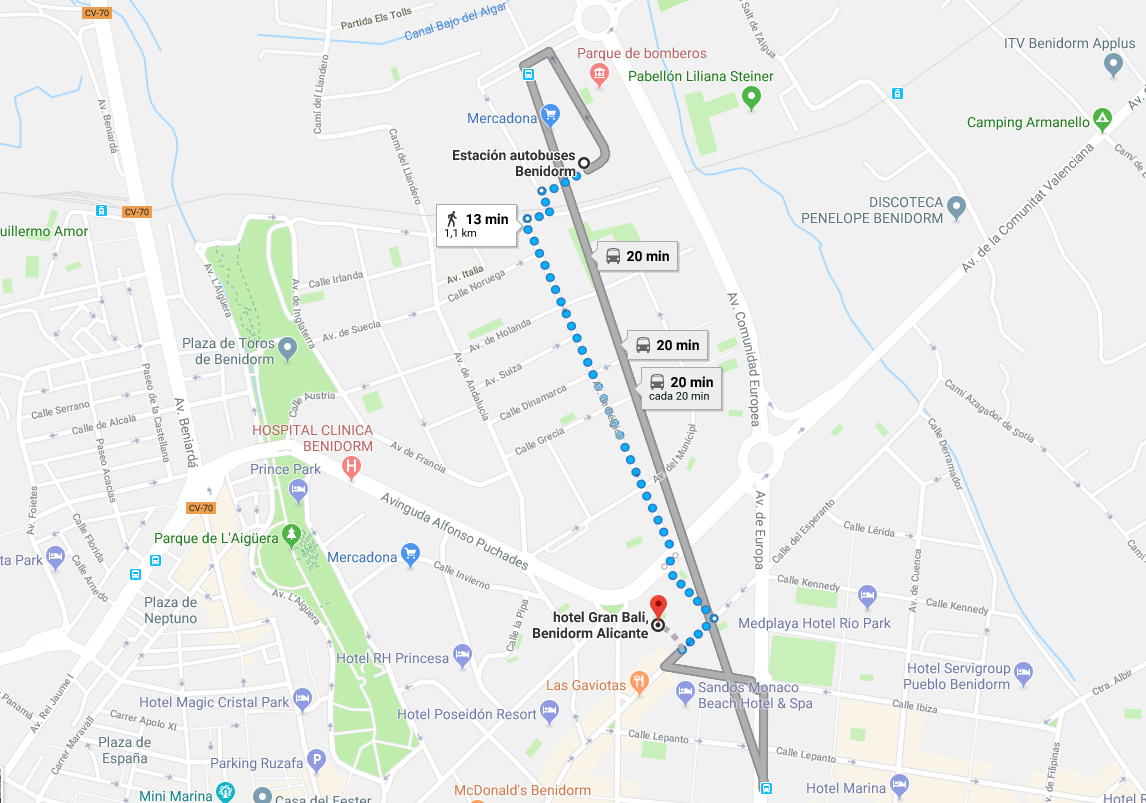 BY TRAIN
Travelling by train along the Costa Blanca is a possibility offered by our narrow track train. From Benidorm, midway along the route, visitors can go on interesting excursions, traveling south towards Alicante city or north towards Denia.
The route from Alicante to Denia passes along the attractive northern coast of the province of Alicante, with a distance of 93 km and 40 stops. It is served by 13 diesel trains operating a scheduled route between Alicante and Denia and 5 that cover the route between Alicante and El Campello via the Tram
From Alicante, you can connect to the national rail network, that connects Alicante with the rest of Spain.
There is also the possibility of pre-booking private or shared transfers from the airport with more flexibility as regards timetable and pick up and drop off locations in Benidorm.
GPS Coordinates
Address: Calle Luis Prendes, 4, 03502, Benidorm, Spain
Lat:38.53201741º38º 31' 55.262676" N
Lon:-0.1642678678º-0º 9' 51.36432408" W