How can I participate at the conference?
Registration
To register you should login with your nanoGe account and purchase your ticket at the conference registration.
To create an account, click at the 'signup' tab and follow the instructions.
Login and join the conference
Login at your nanoGe account and access to the conference Home.
Click on the 'Virtual Room' tab which is only available for registered users.
Everything will happen in this space.
Live sessions: the invited speakers' session is live. You will see a chat for participant's interaction on the right-hand side of the screen.
Pre-recorded contents: contributed talks are offered as pre-recorded video presentations. These will be played during the conference.
Interaction with the Authors & Speakers:
Live Q&A Sessions & Discussions: The time where the authors & speakers will respond their questions.
You can see the ePosters at the "ePoster board" tab (only available for registered users).
The ePoster Session takes place in a chat platform available at the 'Virtual Room' tab. Look for the "Go to ePoster room" buttom.
This platform will be available for participants to join during the conference. Nevertheless, check the Program to see when the ePoster Session starts.
ePoster platform content:
Directory with the list of Discussion Channels. Each ePoster has its own channel identified with the code assigned and the name of the author. For example, 003_Michal_Sullivan
General_Poster_Hall where you can find some basic information about all the eposters along with a direct URL to join their channel. The instructions and assistance will be displayed in this space.
Once you are in the chat, you need to identify yourself using the Talk as anonymous option.
If you are an author write your name and add the code of your ePoster. For example, 003_Michal_Sullivan.

When you first enter the ePoster Session chat platform, you will find the Directory with all the rooms.
Access the Chat room and locate the Discussion Channel of your ePoster prior to the start of the ePoster Session.
As a participant join as many channels as you are interested at.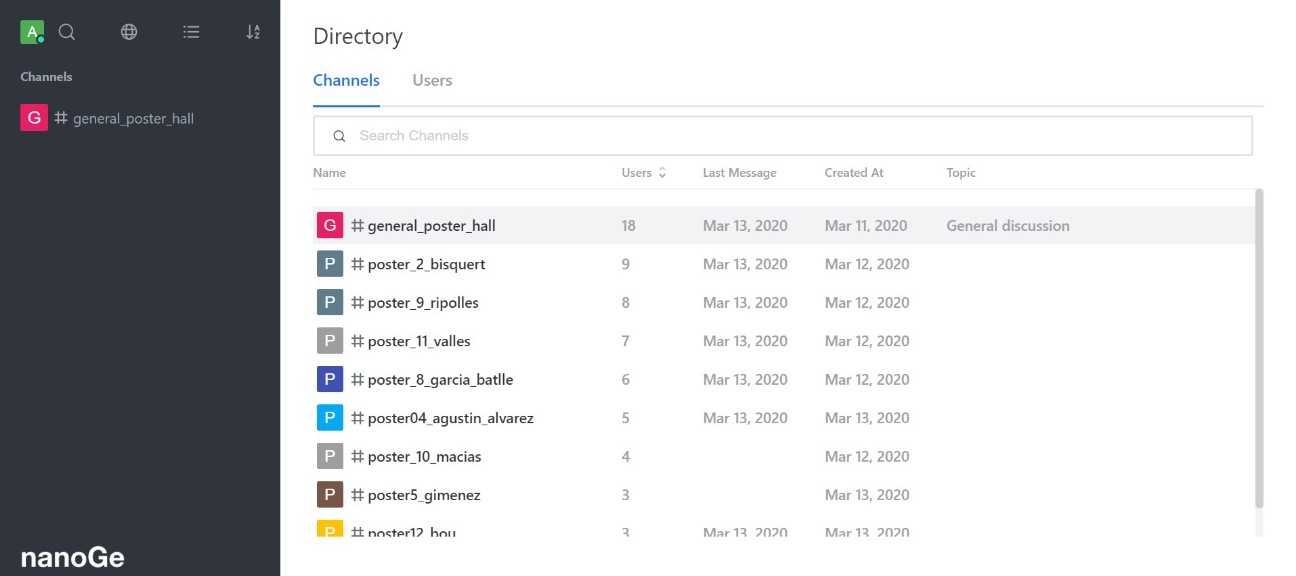 Find out more about nanoGe ePoster Platform (see the video)