nanoGe is a prestigious brand of successful science conferences that are developed along the year in different areas of the world since 2009. Our worldwide conferences cover cutting-edge materials topics like perovskite solar cells, photovoltaics, optoelectronics, solar fuel conversion, surface science, catalysis and two dimensional materials, among many others.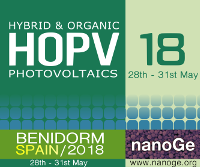 10th International Conference on Hybrid and Organic Photovoltaics
The main topics of this conference are the development, function and modeling of materials and devices for hybrid and organic solar cells, including perovskite solar cells, organic solar cells, quantum dot solar cells, and dye-sensitized solar cells together with their integration into devices for photolelectrochemical water splitting. Building upon success of the previous HOPV conferences, the HOPV 2018 conference will provide an excellent opportunity for scientists and engineers around the world to discuss the latest developments in hybrid and organic photovoltaics.
---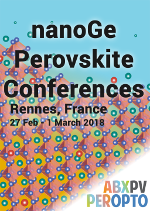 nanoGe Perovskite Conferences
The halide perovskite materials has formed a new class of semiconductors with outstanding optoelectronics and photovoltaic properties. These materials have revealed a variety of intriguing physical properties leading to numerous applications. In the series of ABXPV18 and PEROPTO18 conferences the main topics of hybrid halide perovskites will be treated with special attention to the main applications.
International Conference on Perovskite Thin Film Photovoltaics (ABXPV18)
International Conference on Perovskite Photonics and Optoelectronics (PEROPTO18)

If you want to organize a conference, we make it for you.
Check our reliable experience as conferences secretariat here.

Win-Win Deal
To succed as Organizer in your next meeting, we provide all the required practical and logistics support. You will only need to worry about the scientific aspects of your event. More info
Book on Hybrid Perovskite Solar Cells
"Hybrid Perovskite Solar Cells: the Genesis and Early Developments 2009-2014"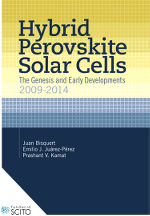 This book is the best opportunity to know the history of the perovskite solar cells, told first-hand by Juan Bisquert, Emilio Juárez-Pérez, and Prashant V. Kamat. The book explains the contributions of Prof. Tsutomu Miyasaka, Prof. Nam-Gyu Park and Prof. Henry J. Snaith, and many other authors of the community.