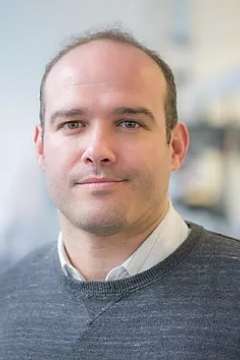 Victor Sans
Universitat Jaume I, Spain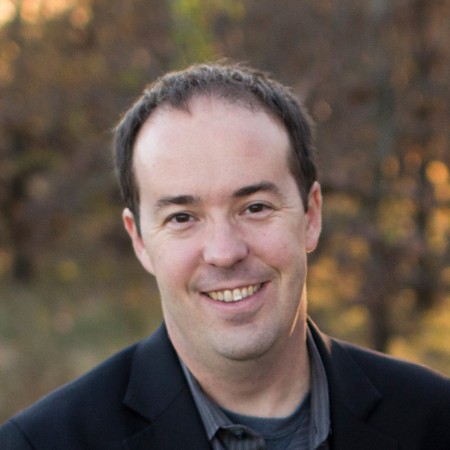 Ronald Smaldone
The University of Texas at Dallas, US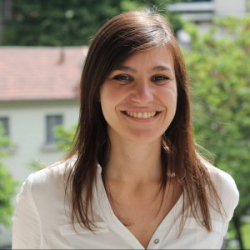 Annalisa Chiappone
Politecnico di Torino, IT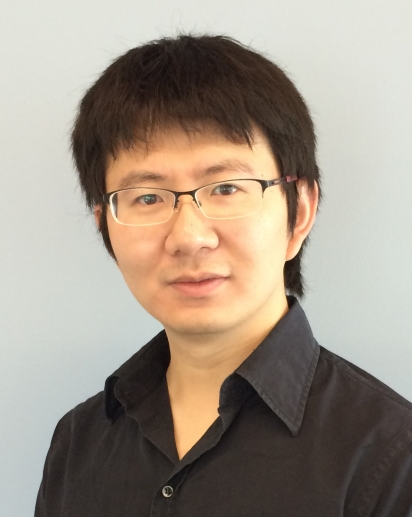 Chenfeng Ke
Dartmouth College, US
ePoster submission deadline: May12th
Registration deadline: May 12th at 12:00 CEST
Last minute registration: You will be able to register after the deadline by clicking here
Please, note that the late registration does not allow to participate at the ePoster Session or submit an abstract. The late registration fee has an increase of 60% of the Participant registration fee.
The seminar will start at 13:00h UTC (15:00h CEST), click here to check your local time
Meetup Conference Timeline
Oral session: starts at 13:00 UTC (15:00 CEST-Berlin-Paris) and finishes at 14:30 UTC (14:30 CEST-Berlin-Paris)
ePoster session starts at 15:00 UTC (17:00 CEST-Berlin-Paris) and finishes at 16:30 UTC (18:30 CEST-Berlin-Paris). However, it will remain open for the participant's interaction.
Zoom session: will be open at 12:45 UTC (14:45 CEST-Berlin-Paris) and closes with the conference closure at 16:30 UTC (18:30 CEST-Berlin-Paris).
If your Department would like to register as a group, please contact us at office@scito.org to find out more about our special deals.
If you are in an institution whose country is listed as "Developing country" (see here), contact us before registration and we will send you a reduced fee ticket.
For any further information we are glad to support at office@scito.org
Note: Applications will only be accepted for participants who use the official email of their institution.
Organize an online seminar
nanoGe is eager to promote the organization of online seminars. Do you have a topic? It's very easy to lauch a meetup! Just describe the topic, decide a few speakers, and fill the form.
Most important: We wish to encourage participation of both junior and senior researchers, please propose interesting research directions
We currently use Zoom for our online conferences.
After the news appeared in the last days, our technical team and different experts have verified that the use of Zoom does not imply a direct security problem for the user, provided the following measures are followed:
Keep updated to the latest version.

Do not share user or conference ID or passwords.

Do not share the url (web address) that reaches you to access.

Do not download Zoom from unofficial websites

.Verify that the emails you receive to access our conferences are from Zoom.us, nanoGe.org or Scito.org.
nanoGe Online Meetup Conference
You are invited to participate in the Online Meetup Advanced materials for next generation 3D printing. It will take place on Thursday May 14th at 13:00h UTC -15:00h CEST.
Contents
Additive manufacturing, commonly known as 3D printing are a set of technologies that are revolutionising manufacturing in many ways, from enabling the manufacture of complex geometries to supply chain. Generating geometries in an additive manner, typically layer by layer, has found widespread applications, from aviation industry to bioprinting. The development of novel materials with superior properties encompasses and underpins the rapid development of the field.
In this on-line conference, we will discuss the development novel materials designed and formulated for 3D printing, which allow a direct translation of novel or emerging properties at the molecular or nano-sized level to macroscopic devices with the functionality dictated by the designer. An emphasis on unique or emerging features arising from the combination of materials and techniques will facilitate the discussion on the next generation materials for 3D printing.
Topics covered will be highly cross-disciplinary, ranging from molecular, supramolecular and nanostructured materials, to formulations and different additive manufacturing techniques, including direct ink writing, stereolithography, inkjet, selective laser sintering, etc.
The focusing on early to mid career researchers will facilitate a dynamic discussion. Poster submission is encouraged in all topics related to the development of materials and techniques for additive manufacturing.
Topics to be covered by the conference:
3D printing technologies

Advanced materials:

Nanostructured

Supramolecular

Macromolecular

Bioprinting
Advanced materials for next generation 3D printing is an online seminar that aims to promote exchange and discussion around
This online seminar brings the scientific conference gathering to the desktops or smartphones of scientists worldwide. Researchers can present their work and keep up with cutting-edge research in the field while reducing their carbon footprint, improve the work-life balance and keep the sense of community.
It will consist of two parts, in which interaction will be the main force:
The Oral Session will consist a few short broadcasted talks led by Invited Speakers, followed by a time for questions from the public driven by a moderator.
Session, where attendees and authors can share their ideas and get feedback from their colleagues worldwide through a
All participants can join and present Due to the short format of the meeting (with few oral contributions), we encourage senior researchers to present and of course we expect enthusiastic participation of junior researchers.
ePoster submission: from April 30th April to May 12th
What do I need to join the online conference?
Registration
In order to register to the conference, you need to log in nanoGe (or create an account if you are not registered yet) and buy a ticket as usually. Upload a profile picture if it is not yet in the system. You will receive the registration confirmation via e-mail.
Present your work: ePoster Submission
For fully obtaining the main goals of a scientific conference, the participation of researchers presenting their ideas in a rich interactive context is necessary. ePoster is a versatile presentation of scientific information.
Once you are registered in the Online Meetup, you can submit your ePoster following the format explained in the information for authors. ePoster submission deadline ends on May 12th.
The ePoster will be available in the ePoster Board (you need to be registered to see this section).
Oral Sessions
Participants will receive an invitation to join the event hours before. The Zoom session will be open 15 minutes before the start of the event.
The oral session will consist of presentations with slides played while the speaker is talking on a specific topic for about 15 min. A Question and Answer chat will be available during the conference so that participants can ask questions to Speakers. They will be answered during the Discussion Pannel.
ePoster Session
The invitation to join the ePoster Chat platform will be sent by email before the event. You can upload and engage in ePoster discussion by accessing the chat rooms at any time (see the conference timeline). The official ePoster Session will start after the Oral Sessions.
Join the ePoster Chat room by using the anonymous button, and put your name so that other can recognize you. Each ePoster has its own Discussion Channel in ePoster Chat. Add yourself to the channels that you consider interesting in order to to follow the progress of the discussion in the left bar. Share ideas and thoughts on the contributions presented.
Be ready to share your poster and video presentations with the broader research community in the social networks. You can follow and use the channels @nanoGe_Conf and hashtag #nanoGeMeetup to share your materials and see other presentations and opinions of the conference. Do not forget to reply and distribute the statements.
The Zoom session will remain open during the ePoster Session. An Open Camera Session will take place there. Authors of ePosters will open the camera and present their work to the audience through a Flash Talk. The main ePoster discussion is on the ePoster Chat, do not forget to see the channel of your ePoster and answer the questions
How to prepare and join the ePoster Session
In the ePoster you describe the contents you propose for communication and discussion. In contrast to traditional static conference posters, that present a closed scientific case, ePoster for online conference is a dynamic framework to instigate the exchange of scientific ideas and information. You can be open and imaginative, provided that the normal codes of scientific exchange are respected.
Present the information so that it can be viewed quickly
Make a simple design that costs you a limited amount of work
It is important that you highlight clearly the main message or information of your contribution, as is achieved in the following example.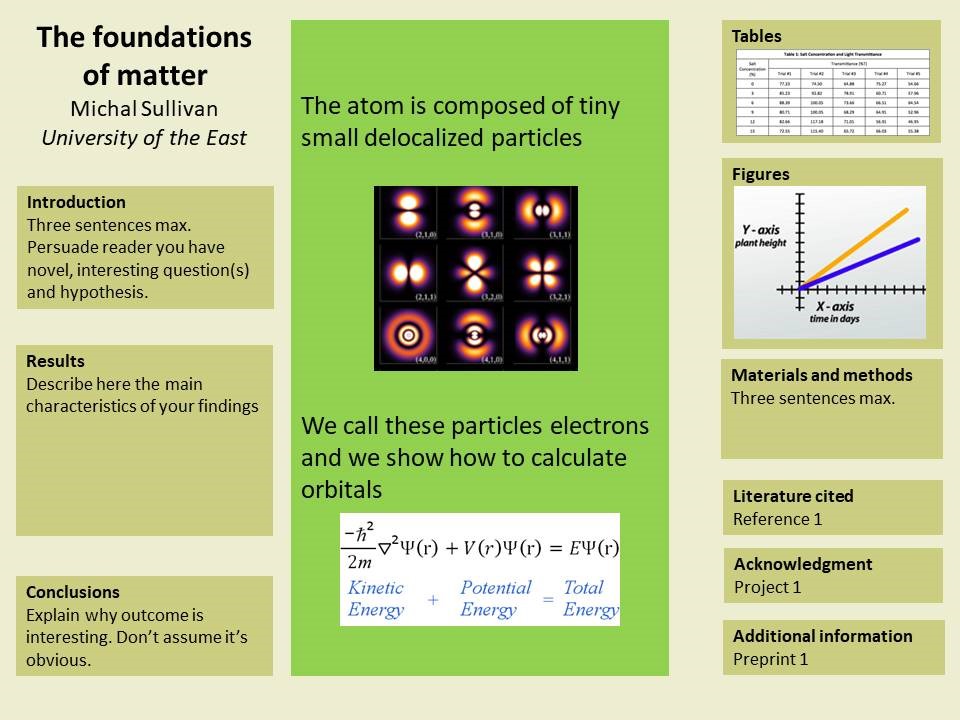 Your ePoster will be available at the ePoster Board of the Conference. There, you have a rectangle space containing the list of authors, title, your picture and ePoster, and also (optional) a TOC, 3 min video of explanation, and a PDF file of Supporting Information (optional).
For the ePoster, use a file type that you can share easily in different media. JPG and PNG files are supported. For the video, you can attach a link to the video uploaded in Youtube.
The ePoster Session will take place in a chat platform where you will find:
A Directory with a channel for each of the ePosters. ePosters will be identified with the code assigned and the surname of the author.
A General_Poster_Hall with some basic information about all the eposters, provided by the authors and a direct URL to join their channel.
Discussions on each poster should be carried in the assigned room. Interact with participants about the topics of your interest and visit as many ePoster discussion rooms as you are interested in through the Directory.
You will find more information on how to prepare your contribution and join the ePoster Session in the Instructions for authors