nanoGe September Meeting is a unique series of symposia focused on advanced materials preparation and fundamental properties and their applications, in fields such as renewable energy (photovoltaics, batteries), lighting, and bioimaging.
The symposia are medium size and closely related to form an exciting, interdisciplinary event that attracts key players of the respective fields either as organizers, invited speakers, or as participants.
Our meeting is held in the wonderful city of Barcelona in Spain, at the UAB – Casa Convalescència which is a jewel of modernist architecture, declared a Monument of Historic, Artistic Interest and named as a part of UNESCO's Cultural Heritage for Humanity. Barcelona's Moderninst architecture counts with the work of renowned architects, such as Gaudi and it has also a broad offer of leisure opportunities to satisfy and delight delegates. Fantastic beaches, golf courses, old Roman and Middle Age buildings and museums.
Do not miss this opportunity and join our nanoGe September Meeting 17 to meet the awesome list of invited speakers and organizers we have prepared for you!.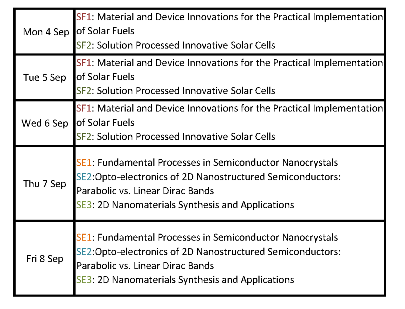 Early registrantion and Abstract submission deadline Oral : 5th June
Abstract submission deadline Poster: 29th June
The conference will take place in Barcelona at the UAB - Casa Convalescència.
Casa Convalescència is a jewel of modernist architecture, a centre-piece of the historic grounds of the Hospital de la Santa Creu i Sant Pau, itself declared a Monument of Historic, Artistic Interest and named as a part of UNESCO's Cultural Heritage for Humanity. [+]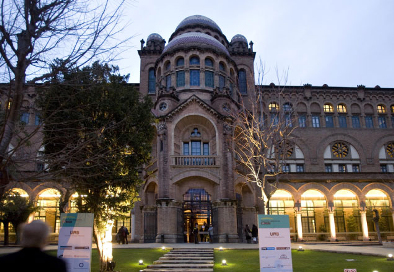 Social dinner will take place at Crudo Bar Barcelona.
There will be two social dinner events: September 5th and September 7th.
Tickets available until August 22nd.
More info: [+]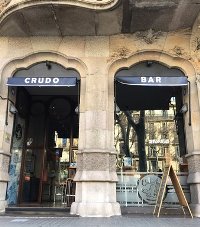 4 - 6 September
SF1: Material and Device Innovations for the Practical Implementation of Solar Fuels (SolarFuel17)
This meeting is focused on bridging the fundamental science of solar fuels materials with up-scaling and reliability for technological development. Emphasis will be placed on fundamental understanding the semiconductor/electrocatalysts/electrolyte interfaces, especially [+]
Organizers:

Wilson Smith

Ki-Tae Nam
TU Delt Seoul Nat. Univ.
SF2: Solution Processed Innovative Solar Cells
This symposium will draw on some of the World's emerging experts in the fields of solution-processed inorganic, organic and hybrid thin film solar cells. The conference will present a balanced progress of solution-processed, thin film solar cells with [+]
Organizers:

Emilio Palomares

Garry Rumbles
ICIQ NREL
7-8 September
SE1: Fundamental Processes in Semiconductor Nanocrystals
This symposium will bring together scientists to discuss surface chemistry of colloidal
semiconductor nanocrystals in all its aspects, address challenges and identify future research directions. [+]
Organizers:

Arjan Houtepen

Hens Zeger
TU Delft Ghent University
SE2: Opto-electronics of 2-D Nanostructured Semiconductors: Parabolic vs. Linear Dirac Bands
This symposium wishes to bring together researchers form the nanocrystal field, and of the classic and novel 2-D semiconductors to discuss the latest theoretical and experimental developments with a special focus to compare 2-D semiconductors with parabolic bands and a linear Dirac-type band structure. [+]
Organizers:

Daniel Vanmaekelbergh

Cherie Kagan
University of Utrech Pennsylvania Univ.
SE3: 2D Nanomaterials Synthesis and Applications
This symposium is intended to cover from any possible perspective all the way from the cradle to the commercialization of devices based on this bidimensional nanomaterials. With respect to the composition, the congress intends to cover graphene and related materials, but also other non-carbon containing 2D [+]
Organizers:

Hermenegildo García

Ana Primo
Univ. Politécnica Valencia Univ. Politécnica Valencia