Record-breaking South Korea scientists create Frontier Energy Solution company aiming "to take perovskite solar cells to every corner of the world"
Barcelona, 6 September 2017
Korea can be considered the nest of high efficiency perovskite solar cells, under leadership and pioneering work of Nam-Gyu Park and Sang-Il Seok. However, so far Korean scientists did not play a major role in the race for commercialization of perovskite photovoltaic technology, in contrast to United Kingdom and Japan, for instance.
At the nanoGe September Meeting held in Barcelona (4-8 September 2017), Korean researchers Ki Tae Nam and Hyun Suk Jung announced the recently funded company that will radically change the international landscape of perovskite PV technology.
Frontier Energy Solution is a start-up in South Korea dedicated to bring the perovskite solar cell to everybody's life by providing energy in every corner of the world. No more and no less is their vision.
The board of the company is formed by Ki Tae Nam and Hyun Suk Jung with Sang-Il Seok (CEO), Nam-Gyu Park (CTO) and Mansoo Choi (Chairman).
| | |
| --- | --- |
| | |
| Hyun Suk Jung, Ki Tae Nam and Juan Bisquert at nanoGe Fall Meeting 2017 in Barcelona | Senior managers of Frontier Energy Solution: Hyun Suk Jung, Nam-Gyu Park, Sang-Il Seok, Mansoo Choi, and Ki Tae Nam |
Korea has a lot of research activity on perovskite solar cells and there are many experts on the topic as well working in the country. This particular situation has opened a new panorama of public funding. It was 8 years ago that this group of researchers got the support to develop this new technology from their Research Institutes, taking into account the highest efficiency world record awarded several times of Dr. Seok and the major technology laps developed by Prof. Park.
This company bases its work in development of a module that ensures its performance and durability by differentiated structural design and process. Currently, silicon solar cell technology is leading the market. By combining the two technologies, perovskite solar cell can supplement silicon solar cell to boost the efficiency, gathering the extraordinary achievements of Seok, Nam, Park and Jung, among others. Another motivation for the founders is to achieve the technical transfer fabrication to big companies so this technology can be produce with a competitive system to be spread around the world. At present they are negotiating partnerships and fund raising with private Korean companies to achieve the goals in the private market.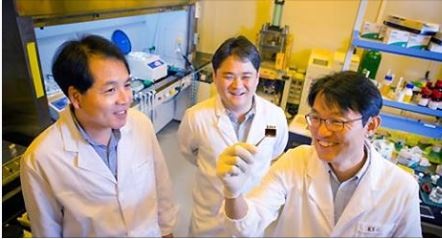 Sang-Il Seok and members of Frontier Energy Solution team.
They expect to reach those amazing objectives in a period of 3 years time and therefore able to offer an efficient and affordable technology based on perovskite solar cells energy at every corner of the world.
Visit the recent and forthcoming nanoGe conferences
More information about FES goals can be found at:
http://www.frontierenergysolution.com/home/
https://www.facebook.com/FESstory/?ref=br_rs