Synthesis, structural analysis and dynamics of 3- and 4-fold interpenetrated Zn-Metal-Organic Frameworks
a
Nanochemistry Department, Max Planck Institute for Solid State Research, 70569 Stuttgart, Germany
Poster,
Kristina Gjorgjevikj,
023
Publication date: 15th February 2023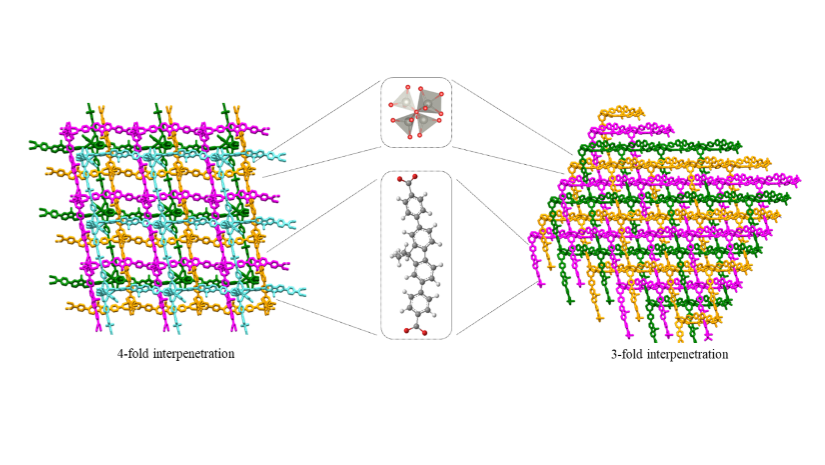 Structural dynamism of interpenetrated Metal-Organic Frameworks (MOFs) due to twisting and sliding of the network in response to temperature change [1,2] or incorporation of small molecules [2,3] has been reported previously. Herein, we investigate solvent mediated dynamic behavior of two new Zn(II) MOFs and establish structure-property relationship in response to external stimuli. The Zn(II) MOFs in question are synthesized using 4,4'-(9,9-dimethyl-9H-fluorene-2,7-diyl)dibenzoic acid ligand. Variation in the reaction conditions led to 3-; and 4-fold interpenetrated structures with the same parent network. Synchrotron single-crystal X-ray diffraction (SCXRD) analysis of both the 3-; and 4-fold interpenetrated structures shows that the Zn forms a ZnO4 secondary binding unit (SBU). Three of the O atoms come from the completely deprotonated ligands, whereas the last O atom connects to three other Zn2+ ions forming an octahedral Zn4(O)(CO2)6 cluster. The 3-fold network crystallizes in the trigonal 𝑃31𝑐 space group, while the 4-fold network crystallizes in the triclinic crystallographic system, space group 𝑃1̅.
- Collaborative Research Center 1333, Molecular Heterogeneous Catalysis in Confined Geometries
- The Carl Zeiss Foundation
© FUNDACIO DE LA COMUNITAT VALENCIANA SCITO