Synthesis and swelling behaviour of MIL88B and MIL88D as dynamic framework platforms
a
Nanochemistry Department, Max Planck Institute for Solid State Research, 70569 Stuttgart, Germany
Poster,
Esengul Ciftci,
025
Publication date: 15th February 2023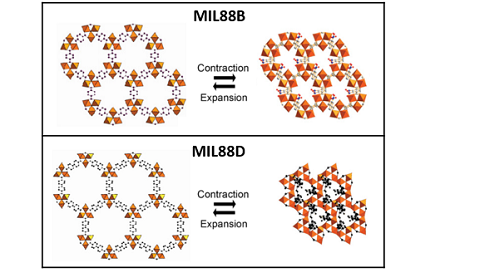 Due to the nontoxic and highly flexible properties, iron(III)-based MOFs received considerable interest, especially MIL-88 [1]. The capacity of the MIL-88 frameworks to swell and contract reversibly under the influence of an external stimulus (temperature, pressure, chemical coupling etc.) without damaging the framework topology is a unique property [2]. In this study, we reported the solvothermal synthesis of isoreticular [3] flexible MOFs, MIL-88B-Fe and MIL-88D-Fe using benzenedicarboxylic acid (BDC) and 4,4'-biphenyl dicarboxylic acid (4'4-BPDC) linkers, respectively (MIL stands for Material from Institut Lavoisier) [4]. We observed swelling behavior of the MIL-88B-Fe and MIL-88D-Fe frameworks in various polar and nonpolar solvents and the unit cell parameters changed after the crystals were dispersed in different solvents. We characterized the MOFs by powder X-ray diffraction and scanning electron microscopy (SEM) analysis. The reversible swelling and contraction without disintegration of the crystal lattice makes MIL-88-Fe an important material for dynamic confinement and responsive behaviour.
We would like to thank the Collaborative Research Center-1333 and Fonds der Chemischen Industrie (FCI) for their funding.
© FUNDACIO DE LA COMUNITAT VALENCIANA SCITO