Multilayer Copper-Rich Transparent Electrode as an Alternative Top Anode for High-Performance Semitransparent Perovskite Solar Cells
a
Dipartimento di Fisica e Chimica (DiFC), Università degli Studi di Palermo, Viale delle Scienze, Ed. 17-18, 90128 Palermo, Italy
b
Advanced Technologies Network (ATeN) Center, Università degli Studi di Palermo, Viale delle Scienze, Ed. 18, 90128 Palermo, Italy
Poster,
Giuliana Giuliano,
089
Publication date: 11th February 2019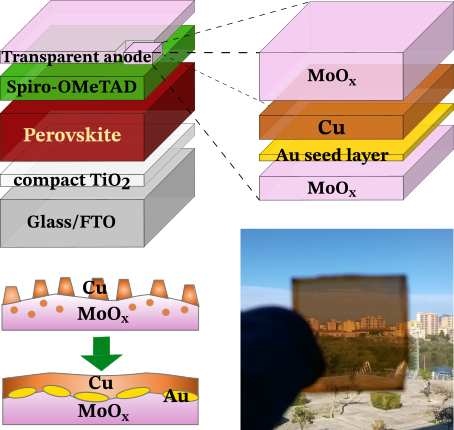 Semitransparent perovskite-based solar cells (ST-PSCs) are highly attractive for applications in the context of Building-Integrated Photovoltaics (BIPVs) as solar windows or in tandem solar cells combined with other low-bandgap solar cells (e.g. silicon or CIGS) to give enhanced light-harvesting [1]. To fabricate high-performance ST-PSCs, one key challenge is that of replacing the conventional opaque metal top electrodes with suitable transparent alternatives. Recently, dielectric/metal/dielectric (DMD) multilayer architectures have been shown to be suitable candidates [2], though generally based on precious metals such as gold or silver, the latter causing also stability issues by reacting with perovskite.
In this work, a novel DMD transparent electrode based on non-precious, less-reactive copper and molybdenum suboxide is manufactured via thermal evaporation and successfully integrated as top anode in semitransparent planar n-i-p perovskite solar cells yielding a maximum efficiency of 12.5%. Uniform and conductive Cu films of about 10 nm are grown onto the oxide surface by means of a pre-deposited ultrathin Au seed layer, which also acts as an effective Cu diffusion barrier. The final MoOx/Au-seed/Cu/MoOx DMD structure shows a very good trade-off between transparency and conductivity as well as a great thermal and mechanical stability. In the perspective of practical BIPV applications, a fine tuning of the perovskite thickness is also carried out to further enhance the device transparency.
Italian MiUR is acknowledged for funding through the programmes PON R&C 2008-2013 and PON R&C 2014-2020. The Advanced Technologies Network (ATeN) Center (Università degli Studi di Palermo) is acknowledged for its infrastructures.
© Fundació Scito