Design and Synthesis of Two Non-fullerene Acceptors Introducing Different End Groups for High Performance Organic Solar Cells
a
Konkuk University, 1 Hwayang-dong, Gwangjin-gu, Seoul, Korea, Republic of
Poster,
Ji Hee Yun,
169
Publication date: 11th May 2021
ePoster: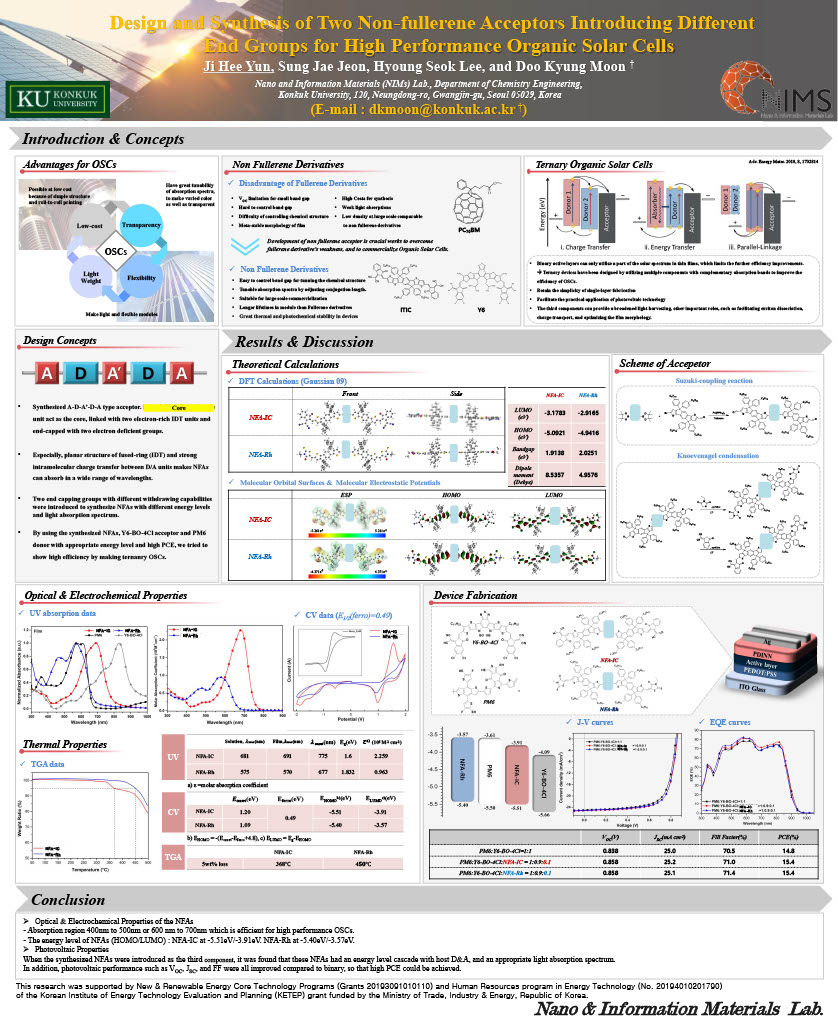 Design and Synthesis of Two Non-fullerene Acceptors Introducing Different End Groups for High Performance Organic Solar Cells
Ji Hee Yun, Sung Jae Jeon, Hyoung Seok Lee, Doo Kyung Moon†
Konkuk University
(dkmoon@konkuk.ac.kr†)
Nowadays, Organic Solar Cells (OSCs) based on non-fullerene acceptors (NFAs) have achieved rapid development, with outstanding power conversion efficiencies (PCEs) of over 18%. To further improve the performance of the OSCs, it is one of the most effective ways to fabricate a ternary OSCs (TOSCs) that currently records a high PCEs from many advantages such as high charge mobility, broadened light absorption spectrum and improved morphology property.
In this study, we designed and synthesized two non-fullerene acceptors introducing different end groups to enhance performance of TOSCs. By adding third components to the binary active layer composed of the PM6:Y6-BO-4Cl blend, it was possible to adjust optical absorption spectrum and energy level. The devices which introduced a newly designed acceptors achieved excellent short circuit current density, fill factor, open-circuit voltage. As a result, we approached higher PCEs from TOSCs devices compared to binary ones.
This research was supported by New & Renewable Energy Core Technology Programs (Grants 20193091010110) and Human Resources program in Energy Technology (No. 20194010201790) of the Korean Institute of Energy Technology Evaluation and Planning (KETEP) grant funded by the Ministry of Trade, Industry & Energy, Republic of Korea.
© Fundació Scito