Efficiency Enhanced Industrial-Compatible Organic Photovoltaics using Roll-To-Plate (R2P) Nanoimprint Lithography
a
University of Southern Denmark, SDU NanoSYD, Mads Clausen Institute, Alsion, 2, Sønderborg, Denmark
b
Stensborg A/S, Denmark, Risø Huse, 50, Roskilde, Denmark
Poster,
Mohammed Amir Yakoob,
172
Publication date: 11th May 2021
ePoster: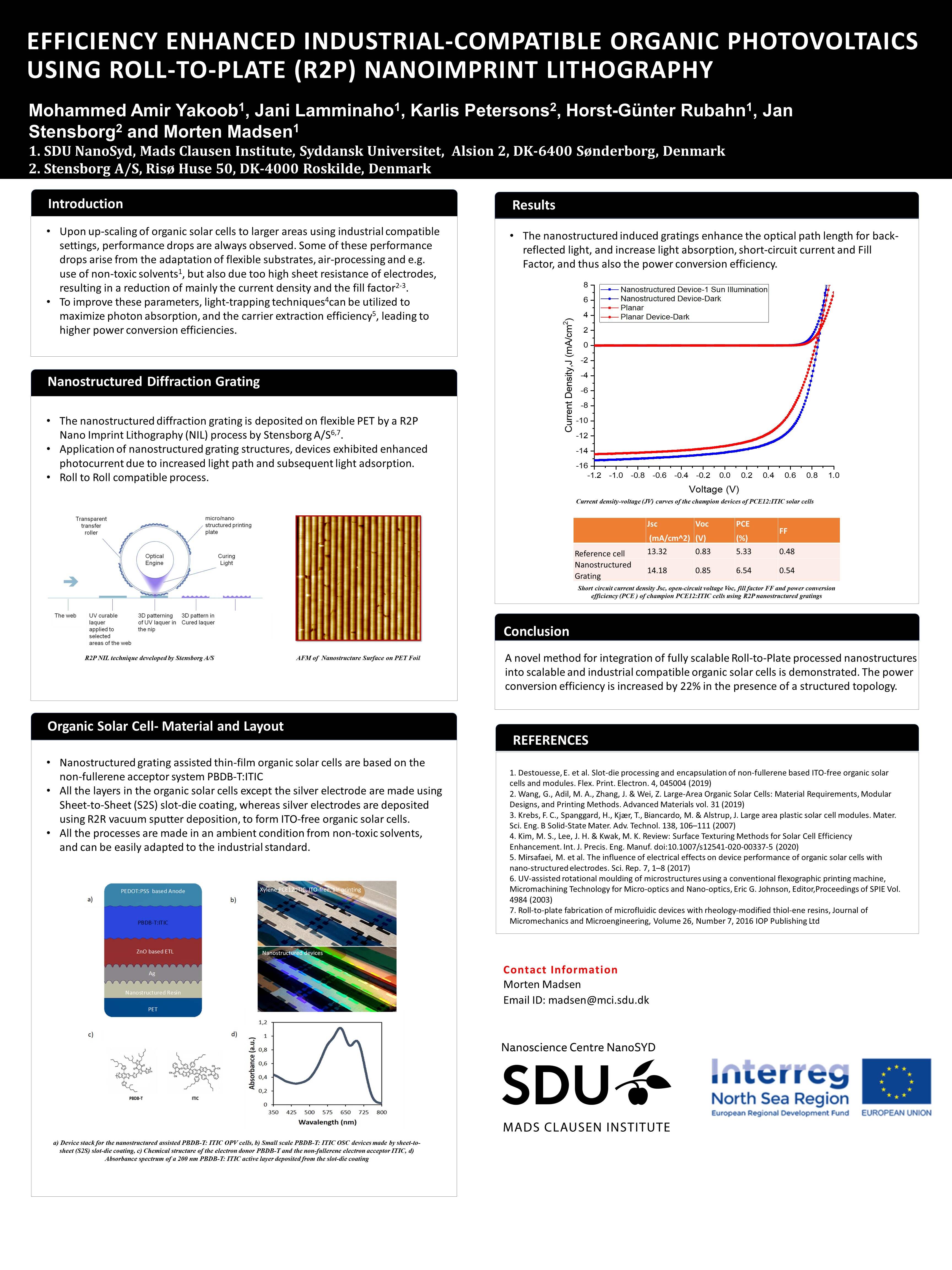 Organic photovoltaics (OPV) has reached above 18% power conversion efficiency on research scale, and the performance of OPV made under industrial compatible fabrication processes is currently on the rise. In this work, we utilize Roll-to-Roll (R2R) UV Nanoimprint Lithography (UV NIL) for improving the light absorption in industrial-compatible and fully scalable organic solar cells. The nanoscale grating structures are formed on flexible PET substrates using R2R UV nanoimprint and integrated in OPV devices. The nanostructured OPV are based on the non-fullerene acceptor system PBDB-T: ITIC, and made in a back contact nanostructured grating architecture. All the layers in the organic solar cells except the silver electrode are made using Sheet-to-Sheet (S2S) slot-die coating, whereas silver electrodes are deposited using R2R vacuum sputter deposition, to form ITO-free organic solar cells [1]. All the processes are made in an ambient condition from non-toxic solvents, and can be easily adapted to the industrial standard. Due to combined effects of improved charge carrier extraction and enhanced optical path lengths, these industrial compatible nanostructured OPV reach device power conversion efficiencies above 6.5%, which is more than 20% increase from the reference cells without the R2R nanostructures.
© Fundació Scito