Green solvent engineering for enhanced performance and reproducibility in printed carbon-based mesoscopic perovskite solar cells and modules
a
SPECIFIC – Swansea University Bay Campus, Fabian Way, Crymlyn Burrows, SA1 8EN Swansea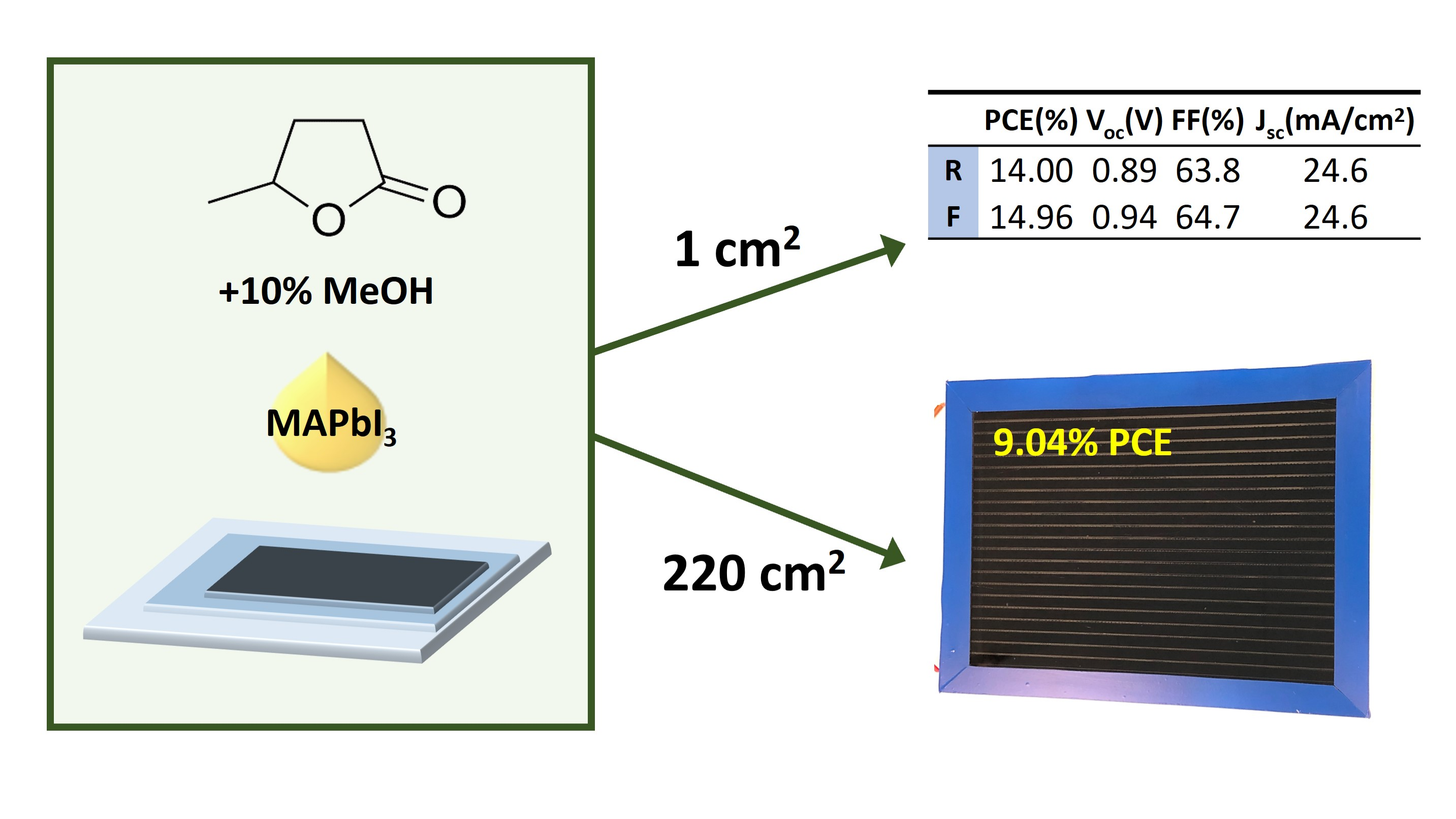 Mesoscopic carbon-based perovskite solar cells (CPSCs) are frequently described as a potential frontrunner for PSC commercialization, being cheap to produce, easily scaled and highly stable. However, many scale-up projects rely on γ-butyrolactone (GBL) based perovskite precursors. A psychoactive subject to legal restrictions in many countries, this introduces legislative costs at large scale and can hamper research where access is prohibited.
This work presents γ-valerolactone (GVL) and GVL-methanol (MeOH) solvent mixes as sustainable, non-toxic, green alternatives to GBL (γ-butyrolactone) in perovskite precursors [1], [2]. While GVL can directly replace GBL, MeOH addition aids in wetting, infiltration, and perovskite crystal quality. Resultant devices exhibit improved performance, reproducibility and stability, achieving a champion PCE of 14.96% in a 1 cm2 device .
Additionally, these precursors are more suited to scale-up, as they are more stable towards unwanted precipitation. This prevents equipment blockages in scaled techniques such as inkjet printing, enabling production of large-scale modules with improved performance and reproducibility as compared to standard GBL solutions. Thus far, >9% has been achieved in a 220 cm2 active area module fabricated in ambient conditions, with recent work on even larger modules also proving successful.
As well as establishing GVL-based precursors as commercially attractive, this provides an example of how green solvent engineering can be applied in the development, amelioration and scale-up of novel photovoltaics. It also provides an interesting case study, showcasing the potential for scale-up of novel perovskite technologies.
© FUNDACIO DE LA COMUNITAT VALENCIANA SCITO