High Open-Circuit Voltage Lead-Free Cs2AgBiBr6 Double Perovskite Solar Cells from Spray-Coating Deposition
a
University of Liege, GREENMAT, Allée du 6 Aout 13, 4000 Liege, Belgium
b
Cavendish Laboratory, University of Cambridge, JJ Thomson Avenue, Cambridge, UK
c
Department of Chemical Engineering & Biotechnology, University of Cambridge, Philippa Fawcett Drive, Cambridge, United Kingdom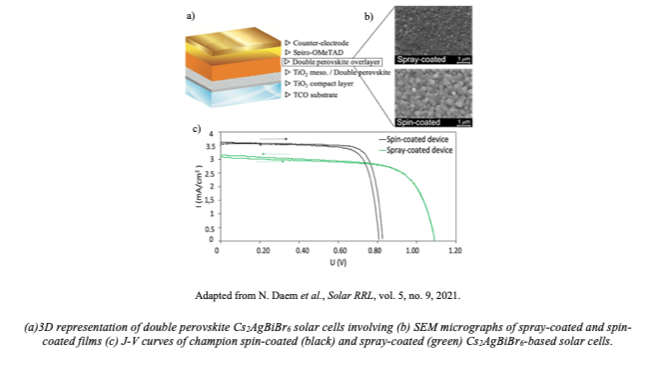 Lead-free Cs2AgBiBr6 double perovskite is considered as a promising alternative photovoltaic absorber to widely used lead halide perovskites due to its easy processability, high stability, and reduced toxicity.
In this presentation[1], spray-coating processing is considered for the deposition of high quality Cs2AgBiBr6 double perovskite thin films. Microstructural (X-ray diffraction, scanning electron microscopy) and optoelectronic (absorbance, photoluminescence, photocurrent density versus applied voltage curves, electrochemical impedance spectroscopy) properties of spray-coated film are compared with a spin-coated benchmark. Incorporation of the spray-coated Cs2AgBiBr6 double perovskite thin films in solar cells leads to 2.3% photoconversion efficiency with high open-circuit voltage of 1.09 V.
This study highlights the suitability of ultrasonic spray deposition for the optimization of Cs2AgBiBr6 solar cells in terms of microstructural properties, light absorption properties and charge transfer at the Cs2AgBiBr6/hole transporting layer interface.
© FUNDACIO DE LA COMUNITAT VALENCIANA SCITO