Spray Coating of Perovskite Solar Cells Incorporating Sprayed Self-Assembled Monolayers
a
Department of Physics and Astronomy, University of Sheffield, UK, Hounsfield Road, United Kingdom
b
Oxford University, Department of Physics, United Kingdom
Poster,
Elena Cassella,
209
Publication date: 20th April 2022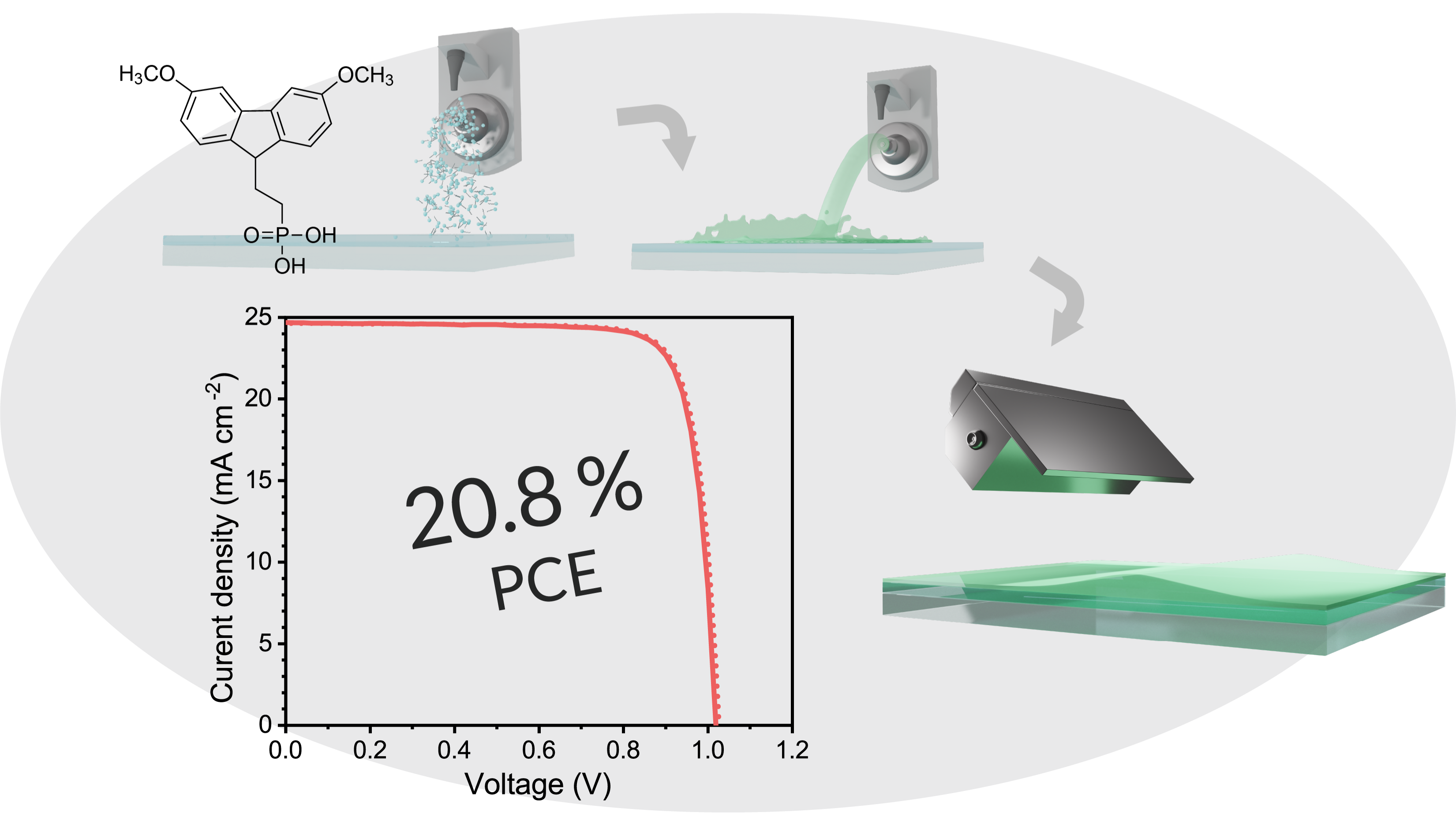 Carbazole-based self-assembled monolayers (SAMs) have recently emerged[1] as very promising hole-transporting materials for perovskite solar cells, owing to their ideal carrier extraction properties, low materials-cost, and versatility. This class of SAMs has been used in an NREL certified world-record 29.15% monolithic perovskite/Si tandem solar cell,[2] and demonstrated exceptional stability in planar devices, retaining 100% of the initial device efficiency after 1000 hours of illumination.[3] Up to now however, such SAMs have been mainly deposited using non-scalable techniques, such as spin coating and dip coating, although slot-die coating has also been demonstrated.[4]

In this work, we develop two new scalable coating methods to deposit a prototypical carbazole-based SAM (MeO-2PACz), namely spray coating and airbrush pen coating. We also show that the use of a controlled gas-jet (a so-called 'air-knife') can be used to accelerate the crystallisation of spray-coated perovskite films, replacing the typical antisolvent quenching lab-scale process with a 'gas quench' – first demonstrated for spin coating,[5] but now applied to almost all other scalable-processing techniques. Combining the use of gas-quenched perovskite with spray-deposition of a SAM, we fabricate fully spray-cast/evaporated perovskite PV devices, with this protocol being entirely consistent with high-speed roll-to-roll manufacturing processes. Notably, the power conversion efficiency of our devices exceeds 20% - a figure that currently represents the state-of-the-art for fully spray-coated technologies.
This work was funded by the Engineering and Physical Sciences Research Council (EPSRC) grant EP/S009213/1 (The integration of photovoltaic devices with carbon-fiber composites). E.J.C., J.A.S. and E.L.K.S. thank the EPSRC for a PhD studentship from the Centre for Doctoral Training in New and Sustainable PV, (EP/L01551X/1). M.E.O'K. thanks the EPSRC for a PhD studentship from the Centre for Doctoral Training in Polymers and Colloids, EP/ (EP/L016281/1). T.T. thanks the faculty of Science, University of Sheffield for a studentship.
© FUNDACIO DE LA COMUNITAT VALENCIANA SCITO