Air Knife-Assisted Spray Coating of Organic Solar Cells
a
Department of Physics and Astronomy, University of Sheffield, UK, Hounsfield Road, United Kingdom
Poster,
Emma Spooner,
210
Publication date: 20th April 2022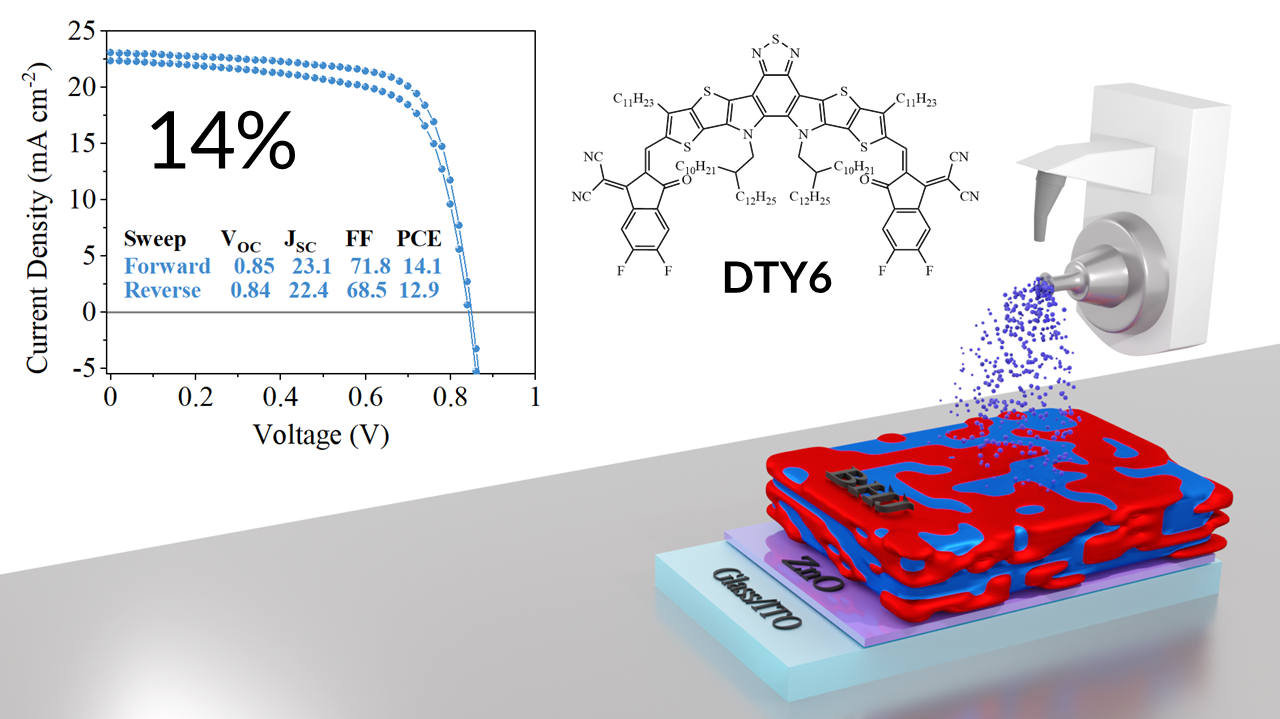 Organic solar cells (OSCs) have shown sky rocketing efficiencies in recent years, due the introduction of the 'Y-class' of non-fullerene acceptors. These systems have now breached 19% efficiency,[1] using spin coating and halogenated solvents. However, as the field moves forward, manufacture using lower waste deposition methods, and non-halogenated solvents, is increasingly vital.
Spray coating is a promising scalable deposition technique that has demonstrated the fastest coating speeds of any low waste method (>12 m min-1)[2] and is uniquely able to deposit on non-planar substrates. While OSCs based on a Y-class system have been manufactured via blade coating[3] and slot die coating,[4] they are yet to be demonstrated for spray coating.
Here, for the first time, we demonstrate an ultrasonically spray coated OSC using Y-class acceptor DTY6. Importantly, we use a non-halogenated solvent (o-Xylene) and do not heat the substrate or the ink- meaning this process is inherently scalable. Instead of heat we use an 'air-knife' to blow nitrogen at our film after deposition, rapidly removing solvent. This method has been recently very successful in gas-quenching spray coated perovskite solar cells,[5] and here is one of the first demonstrations of its use in OSCs. Using the air-knife assisted drying, we achieve state-of-the-art spray coated efficiencies of 14.1% for PM6:DTY6 OSCs in o-Xylene.
This work was partly funded by the Engineering and Physical Sciences Research Council (EPSRC) grant EP/S009213/1 (The integration of photovoltaic devices with carbon-fibre composites). E.L.K.S. and E.J.C. thank the EPSRC for PhD studentships from the Centre for Doctoral Training in New and Sustainable PV, EP/L01551X/1.
© FUNDACIO DE LA COMUNITAT VALENCIANA SCITO