Bulk and Micro-Photoluminescence Studies of Perovskites
a
Edinburgh Instruments, Livingston, United Kingdom
Poster,
Stephen McGurk,
229
Publication date: 20th April 2022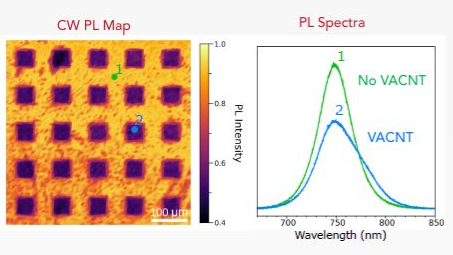 Photoluminescence (PL) Spectroscopy is a versatile tool for the characterisation of photovoltaic materials, providing key information on their efficiency, charge carrier dynamics, structural changes or defects.
Halide perovskites CH3NH3PbI3 (MAPI) and CsPbBr3 have been characterised by an array of tests in a commercial PL spectrometer combining steady state spectral, lifetime, photoluminescence quantum yield (PLQY), and temperature-dependent measurements to obtain detailed information on their photophysics.
In addition, the efficiency of Vertically Aligned Carbon Nanotubes (VACNTs), a promising hole extraction material in solar cells, has been studied by PLQY and by spatially resolved photoluminescence microscopy using a confocal Raman microscope equipped with a fluorescence lifetime imaging (FLIM) upgrade.
The results inform the design of halide perovskites for more efficient solar cell technology and demonstrate the suitability of commercial spectroscopic instrumentation for such studies.
© FUNDACIO DE LA COMUNITAT VALENCIANA SCITO