Reconstruction of Copper Nanoparticles at Electrochemical CO2 Reduction Conditions: Identical Location Scanning Electron Microscopy (IL-SEM) Study
a
Department of Materials Chemistry, National Institute of Chemistry, Hajdrihova 19, 1000 Ljubljana, Slovenia
b
University of Nova Gorica, Vipavska 13, 5000 Nova Gorica, Slovenia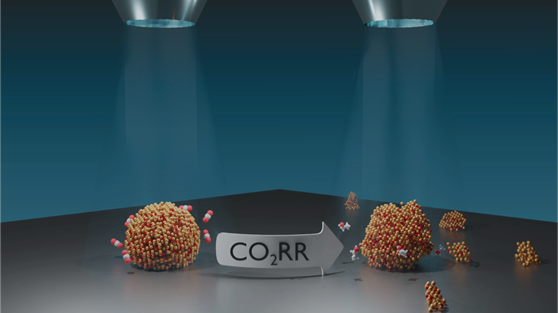 Reconstruction of Copper Nanoparticles at Electrochemical CO2 Reduction Conditions: Identical Location Scanning Electron Microscopy (IL-SEM) Study
Electrochemical reduction of CO2 (ERC) comes to the fore as one of the perspective ways to convert CO2 to chemical fuels and other energy-dense products, ideally powered by renewable electricity. Copper is the only monometallic catalyst that can produce hydrocarbons and alcohols in decent amounts.[1] Overpotential, selectivity, activity and stability are figures of merit that should be considered for evaluation of any given catalyst for ERC reaction. Nevertheless, up to date, the structural stability has been at least studied parameter and to bring the ERC process to an industrially relevant level, the stability of copper-based catalysts must be more scrutinized.[2] Since nanoscale electrocatalysts' activity and selectivity are highly affected by the structural changes via so-called structure-property relationships, understanding the phenomenon and the development of approaches to control it is of paramount importance.
Among the various techniques of synthesis of copper-based catalysts for ERC, electrodeposition stood out as a generally inexpensive, simple and versatile method for obtaining copper nanostructured materials. The stability of pulse-electrodeposited copper nanoparticles under relevant ERC conditions tracked with identical location scanning electron microscopy (IL-SEM) method will be discussed. This approach provides direct evidence of the history of the tracked changes to the observed Cu nanoparticles. With this objective information, we could explain the observed structural changes with two separate electrochemical processes occurring one after another, namely copper dissolution and subsequent redeposition of the dissolved copper species in a form of new smaller Cu fragments.[3]
This study was supported by the Slovenian Research Agency for the research programme P2‐0393 and project N2‐0106.
© Fundació Scito