Toluene assisted two-step deposition method for the fabrication of lead free perovskite solar cells
a
Indian Institute of Technology Indore, India
Poster,
Khursheed Ahmad,
082
Publication date: 23rd October 2018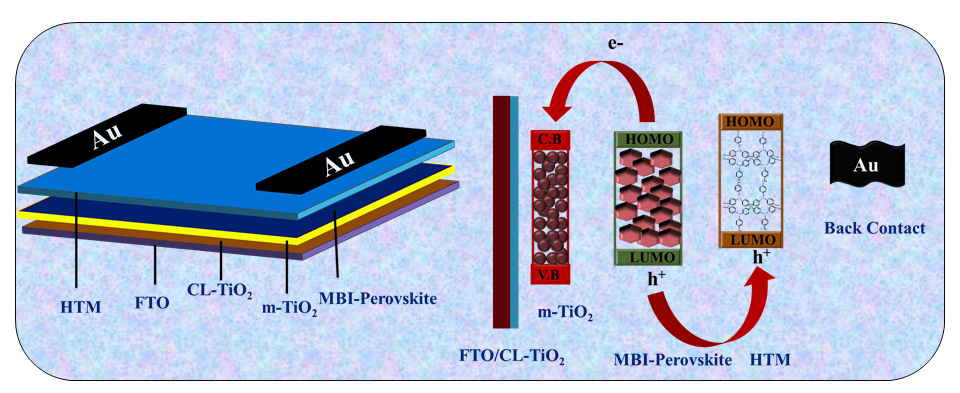 Herein, we have used the two step deposition method to fabricate the high performance lead free perovskite solar cells. The methyl ammonium bismuth halide (MBI) light absorber gained enormous attention of the researchers/scientists because of its low toxicity and air stability. We have fabricated the lead free perovskite solar cells (PSCs) device architecture (FTO/CL-TiO2/m-TiO2/MBI/Spiro-MEOTAD/Au). The film quality of the MBI was found to be superior by two step deposition over one step deposition. The PSCs device fabricated by two step deposition method has shown excellent power conversion efficiency of 0.41% with an extremely high open circuit voltage of 870mV. The stability of the fabricated PSCs device was investigated up to 60 days under atmospheric conditions (humidity ~40-50%). The performance of the perovskite solar cells are in state of the art and we believe this approch would provide useful information to understand the fundamentals. Moreover, the perofrmance may be improved by changing the different components of the perovskite solar cells.
We sincerely acknowledgement SIC and Discipline of Chemistry IIT Indore. K.A. thanks to UGC for providing fellowship (RGNFD).
© FUNDACIO DE LA COMUNITAT VALENCIANA SCITO