Interfacial Passivation of Perovskite Solar Cells by Methylene Fluorene Based Small Molecules
a
Department of Materials Science and Engineering, National Taiwan University of Science and Technology
b
Department of Chemical and Materials Engineering, National Kaohsiung University of Science and Technology
c
Department of Materials Engineering, Ming Chi University of Technology
Poster,
Ta-Hung Cheng,
052
Publication date: 21st November 2022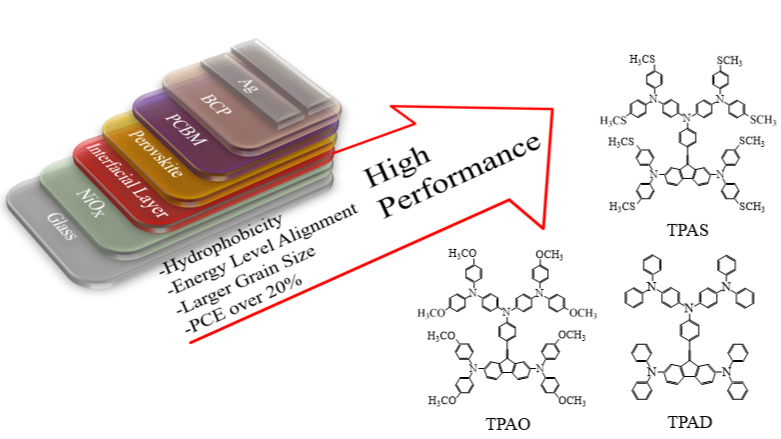 We investigate the effects of three p-type small molecules namely, TPAS, TPAO and TPAD (having 9-methylene fluorene core with triphenylamine side functionality) as the hole transporting layer of perovskite solar cells (PSCs). The energy levels of these materials can be tuned by the outward group (i.e., methoxy or methylthio). We investigated these materials as interfacial layer (IFL) between NiOX and perovskite layers.[1] The embedding of IFL modified the surface defects of NiOx and promoted the growth of perovskite crystal features of larger grain size and better carriers' transportation. Under the condition of AM1.5G, NiOX / TPAS based PSC has the best power conversion efficiency of 20.30%. Moreover, the hydrophobic properties of these IFL effectively avoid water penetrating into the perovskite layer from the interface, thus provided an improvement of the long-term stability of the device. After more than 50 days of storage in argon atmosphere, the performance of control device remains only 70% of the initial PCE, while NiOX /TPA device still retains more than 80% of the initial PCE. In addition, the TPA-modified device (without encapsulation) displayed excellent air-stability, maintaining over 80% of its performance after storage under air (40% humidity, 25 °C) for over 40 days.
Financial support from the Ministry of Science and Technology (MOST 111-2113-M-131-001-), Taiwan are gratefully acknowledged.
© FUNDACIO DE LA COMUNITAT VALENCIANA SCITO