SURFACE MODIFICATION OFNICKEL OXIDE HOLE TRANSPORT LAYER FOR THE PEROVSKITE SOLAR CELLS
a
Photovoltaic Materials Group, Center for GREEN Research on Energy and Environmental Materials, National Institute for Materials Science (NIMS), 1 Chome Namiki, Tsukuba, Japan
Poster,
Masatoshi Yanagida,
056
Publication date: 21st November 2022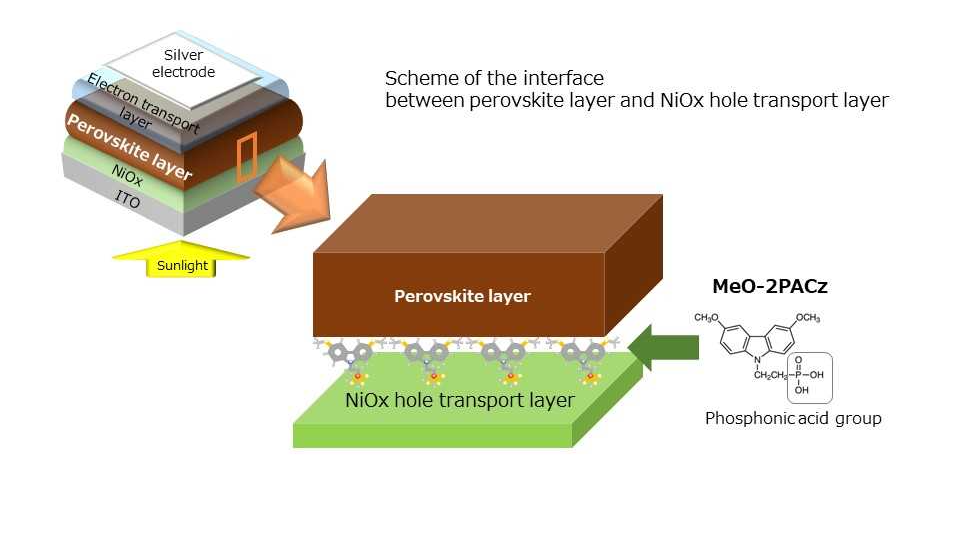 Inverted perovskite solar cells consisted of ITO (Indium tin oxide) / NiOX (Nickel oxide) / Perovskite/ PC60BM (phenyl-C61-butyric acid methyl ester) / AZO (Aluminum doped zinc oxide) / Ag has been investigated [1,2] and are highly stable for continuous 1 SUN illumination [3,4]. For improvement the efficiency, the surface modification of NiOX surface has been also investigated using CsBr [5] and 2-(3,6-dimethoxy-9H-carbazol-9-yl) ethyl] phosphonic acid (MeO-2PACz). [6] The surface modification of MeO-2PACz on sputtered NiOX (See the scheme) not only protects the reaction between NiOX and perovskite but also passivates the surface defects. Because MeO-2PACz also acts as hole transport layer, the pin holes of NiOX layer should be filled by MeO-2PACz. To clarify the effect of MeO-2PACz on the property of NiOX hole transport layer, we investigated the NiOX thickness dependent photovoltaic performance of the perovskite solar cells with (w) or without (w/o) surface modification of MeO-2PACz on NiOX. Especially, we estimated the internal quantum efficiency (IQE) of the perovskite solar cells by measuring the external quantum efficiency (EQE) and reflectance spectroscopy.
This work was partially supported by JSPS KAKENHI Grant number 22H02189.
© FUNDACIO DE LA COMUNITAT VALENCIANA SCITO