Effective Alkyl Chain Combinations of Dopant-Free Poly(3-alkylthiophene)s and Surface Passivation Salts for All-Inorganic Perovskite Solar Cells
a
Department of Applied Chemistry and Research Institute for Science and Engineering, Waseda University, 169-8555, Japan
b
Research Center for Advanced Science and Technology (RCAST) and Department of General Systems Studies, Graduate School of Arts and Sciences, University of Tokyo, 153-8904, Japan
Poster,
Megumi Kojima,
075
Publication date: 21st November 2022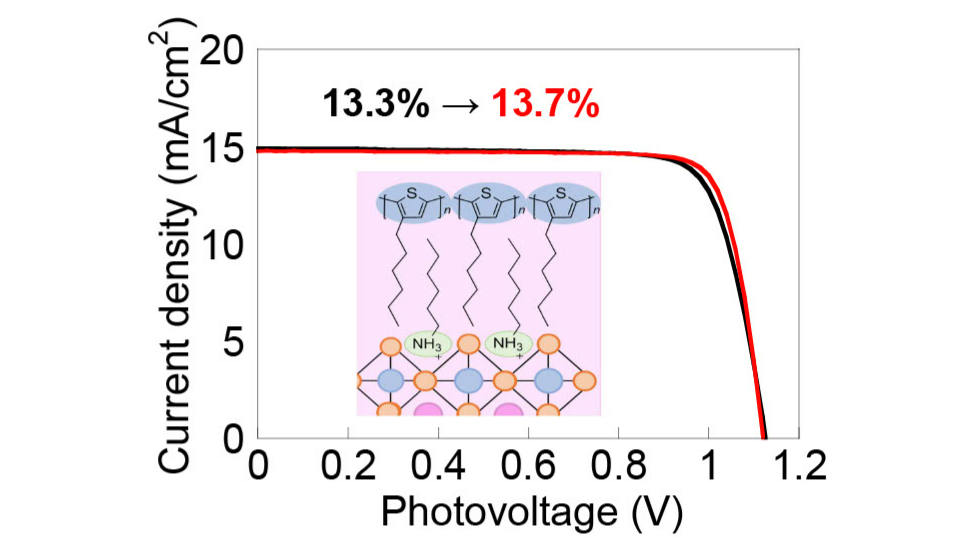 All-inorganic perovskite, CsPbI2Br, with a wide bandgap of 1.89 eV and high thermal stability, is one of the promising candidates as a photo-absorber in the shorter wavelength range for a top cell of tandem configuration. On the other hand, the moisture sensitivity of CsPbI2Br is one of the key issues. Compared with Spiro-OMeTAD and Poly(triaryl amine) with oxidative dopants and Li salts, poly(3-hexylthiophene) (P3HT) has attracted much attention as a hole-transporting material, due to its high hole mobility without any dopants. In this report, we applied poly(3-alkylthiophene)s (P3AT)s with different alkyl side chain lengths (C4~C6) as a hole-transporting layer for all-inorganic perovskite solar cells and compared photoelectric properties. We also optimized the n-alkyl chain length of ammonium salts for passivation of the perovskite layer to deliver a high photoelectric conversion efficiency (PCE) of 13.7%. The moisture durability was also improved by passivation. Surface and cross-sectional SEM, and XRD were characterized to support the effect of passivation. In addition, fluorescence lifetime measurement suggested high hole extraction efficiency of appropriate hole-transporting layer and passivation.
This work was partially supported by NEDO project (20001016-0).
© FUNDACIO DE LA COMUNITAT VALENCIANA SCITO