Bar-coating Preparation of All-Inorganic Perovskite Layer over 700 nm Thickness from Perovskite Precursor Inks toward High-efficiency Solar Cells
a
Department of Applied Chemistry and Research Institute for Science and Engineering, Waseda University, 169-8555, Japan
Poster,
Kota Haseyama,
076
Publication date: 21st November 2022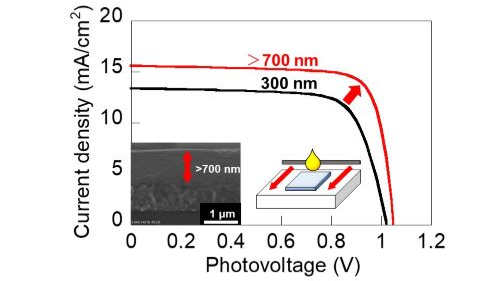 Perovskite solar cells have attracted great research attention as next-generation solar cells due to facile fabrication and high photoelectric conversion efficiency(PCE). A spin-coating method is often used to prepare a high-quality perovskite layer, however, it is quite challenging to extend in a large area preparation[1]. In this report, we utilize a bar coating method to prepare both a wide bandgap perovskite layer (CsPbI2Br) and a hole transporting layer for a top cell of tandem solar cells. In particular, the thickness of the perovskite layer, which was often limited to 350-400 nm by the conventional spin-coating method, was overcome by our bar-coating method. For a bar-coating process, the residual solvent composition change under the drying process is critical. Besides solvent composition and concentration of a precursor solution, we optimized a standing time at 25-40°C and the following heat treatment at 160°C. The thickness of the obtained perovskite layer was greatly enhanced (>700 nm), resulting in a short-circuit current density (JSC) exceeding 15 mA/cm2 and a high PCE of 13.2% as the top cell. IPCE spectrum also showed an improved conversion efficiency in the range of 600 – 700 nm by the thickness of the perovskite layer. Bar coating was also utilized for P3HT as a hole transport layer, which showed even higher PCE (13.4%) than spin-coated P3HT. The bar coating method of both layers was a simple and promising approach for the large-area wet process of perovskite solar cell fabrication.
This work was partially supported by NEDO project (20001016-0).
© FUNDACIO DE LA COMUNITAT VALENCIANA SCITO