From bulk to thin-films: optical properties of new 2D tin halide perovskites in a wide temperature range
a
Saule Research Institute, Wroclaw Technology Park, 11 Dúnska Str., Sigma building, Wroclaw, PL 54-427, Poland
b
Department of Semiconductor Materials Engineering, Wrocław University of Science and Technology, Wyspiańskiego 27, Wrocław 50-370, Poland
Poster,
Wiktor Żuraw,
343
Publication date: 22nd December 2022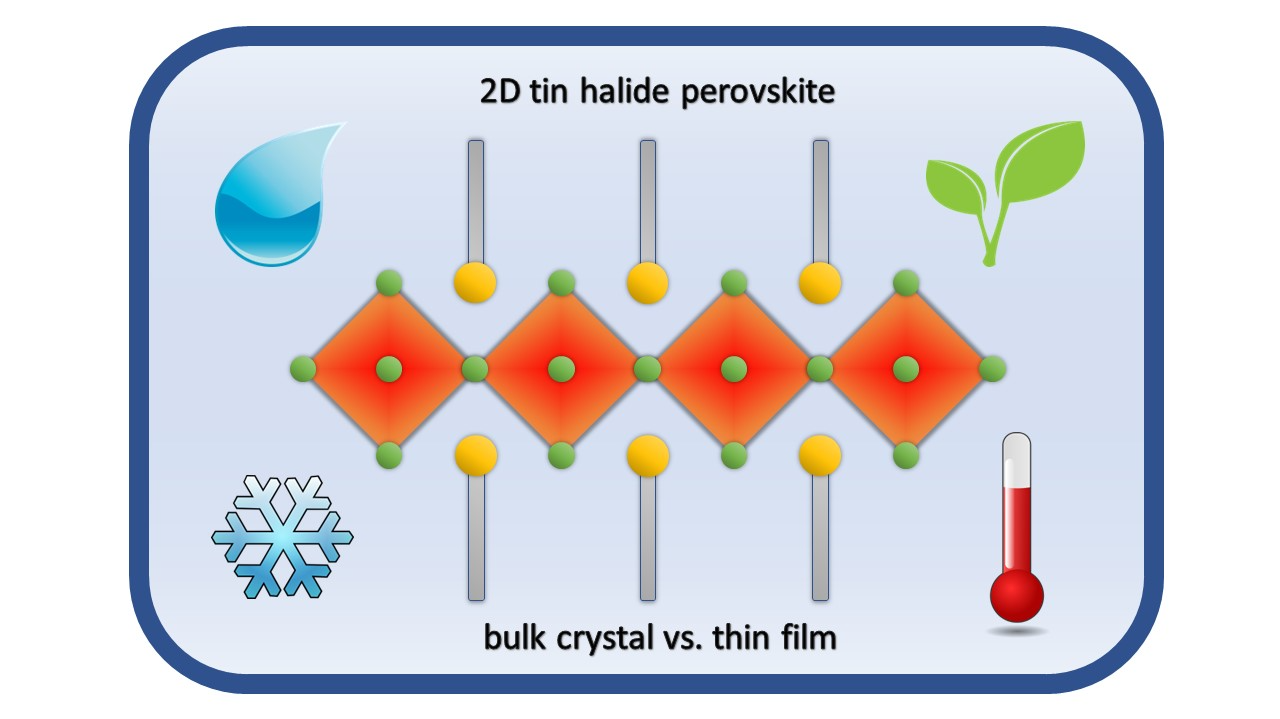 Tin-halide perovskites are gaining more and more interest every year due to their lower toxicity compared to their lead-based counterparts. Despite more suitable energy gaps for applications in solar cells, they usually achieve significantly lower efficiency and stability than their Pb-based siblings due to Sn(II) susceptibility to oxidation. One of many strategies used for the improvement of Sn-based devices' performance is the passivation of the 3D perovskite's surface with bulk organic cations, eventually resulting in the formation of the so-called quasi-2D structures. Though the pool of such structures is quite impressive, understanding the behaviour of corresponding 2D perovskites is of great importance for the perovskite community.
Herein, we present a comprehensive characterization of a previously unexplored tin-based 2D perovskite. We show the changes in the optical and structural properties of both bulk crystals and spin-coated thin films in a wide temperature range (20 K – 310 K). Moreover, we studied the influence of environmental parameters (exposition to air, humidity, vacuum) on optical properties. Our studies indicate interesting properties of the fabricated perovskites for potential applications in sustainable optoelectronics.
This work has received funding from the European Union's Horizon 2020 research and innovation programme under Grant Agreement No. 862656. AH and ŁP acknowledge support from the National Science Centre (Poland) through the NCN OPUS grant UMO-2019/33/B/ST3/03021.
© FUNDACIO DE LA COMUNITAT VALENCIANA SCITO