Near - IR Photodiodes, Based on Colloidal Nanocrystals.
a
Department of Electrical and Computer Engineering, Technion, Israel
Poster,
Olga Solomeshch,
348
Publication date: 22nd December 2022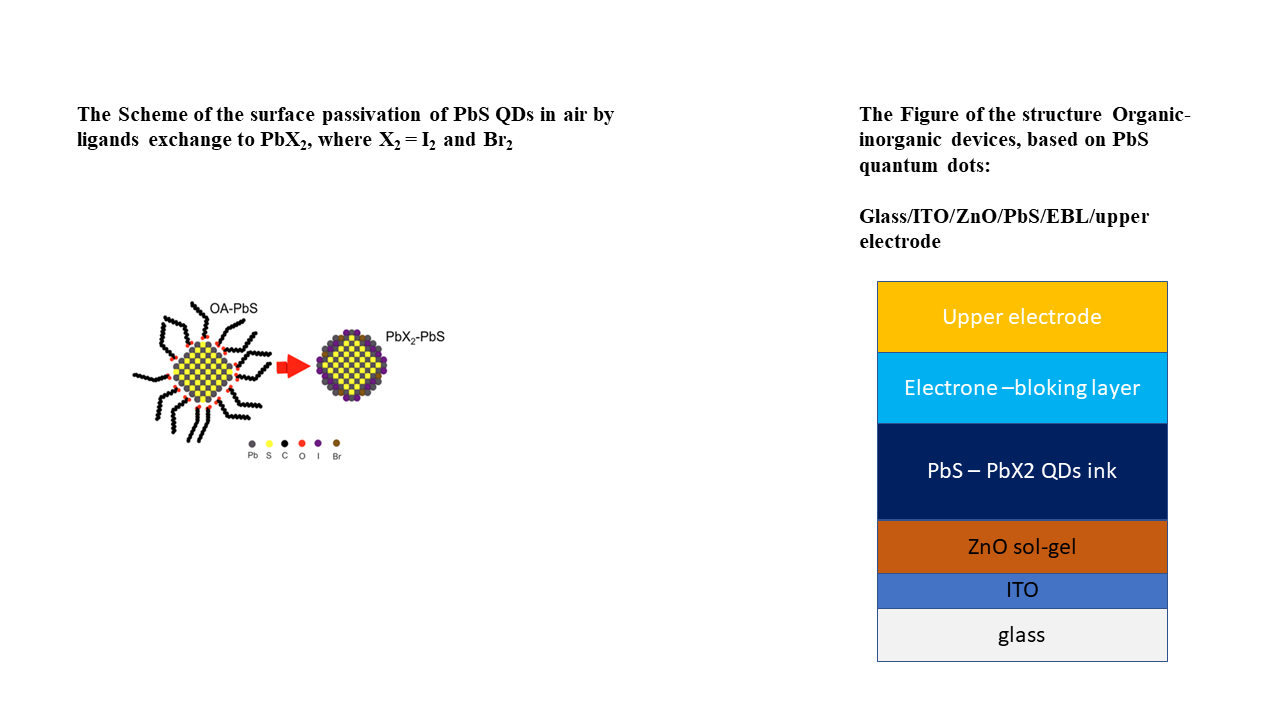 The results of study sensitive organic-inorganic devices with the structure: Glass/ITO/ZnO/PbX2-PbS/EBL/upper electrode have been presented. First, 4 - pixels substrates (1.4 sm x 1.4 sm) were fabricated from Glass - ITO samples with a 150 nm thick ITO by photo-lithography method in Technion's micro-nano fabrication & printing unit (MNF&PU). To prepare a working layer, PbS core-type quantum dots (QDs), with original concentration C=10 mg/mL and a fluorescence peak at λem 1200 nm in toluene were surface passivated in air by ligands PbX2, where X2 = I2 and Br2, by exchange method, as shown on the Scheme. The resulting (PbS-PbX2) ink was spin-coated on 4-pixels ITO substrate, followed by a fabrication of ZnO sol-gel layer. The different types of upper electrodes have been thermal deposited through a shadow mask on the working layer. For optimization of device performance, fluorinated fullerene C60F48 was applied to organic electron-bloking layer (EBL) as p-dopant for the set of devices. The structure of devices has been presented on Figure. Dark – light photovoltaic characteristics of devices, the effect of organic EBL and bias dependent on the external quantum efficiency (EQE) have been studied.
© FUNDACIO DE LA COMUNITAT VALENCIANA SCITO