CsPbBr3 perovskite films obtained by single-source vacuum deposition
a
Universidad de Valencia - ICMol (Institute of Molecular Science), Catedrático José Beltrán Martinez 2, Paterna, Spain
b
Department of Chemistry, Imperial College London, South Kensington Campus London, London, United Kingdom
nanoGe Perovskite Conferences
Proceedings of International Conference on Perovskite Thin Film Photovoltaics and Perovskite Photonics and Optoelectronics (NIPHO20)
Sevilla, Spain, 2020 February 23rd - 25th
Poster,
Bas A.H. Huisman,
108
Publication date: 25th November 2019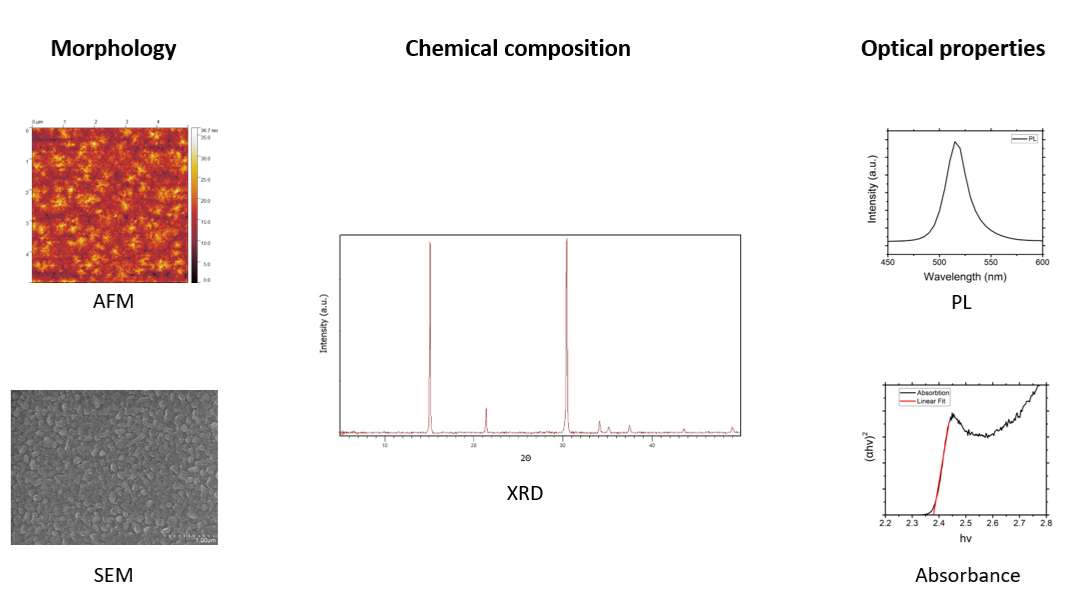 Vacuum deposition methods are advantageous for the preparation of perovskite films, as they are intrinsically additive and allow a precise control over the thickness and composition of the material. On the other hand, the vacuum processing of alloyed perovskites requires a fine control over the deposition rates of multiple precursors simultaneously, and depending on the chemical nature of the compounds it can be time consuming. In this work, we investigate single-source vacuum deposition as an alternative method for the preparation of CsPbBr3 perovskite thin-films.
Mechanically synthesized perovskite powder [1] is used as a precursor material, which is then evaporated at high temperature in a vacuum chamber. The CsPbBr3 films are characterized on morphology (AFM, SEM), chemical composition (XRD, XPS) and optical properties (PL, Absorbance) confirming the growth of homogeneous and crystalline CsPbBr3 films. With these technique, uniform and smooth CsPbBr3 films can be deposited with thicknesses as high as 1 µm in less than a minute. As a proof of concept, these films are integrated in optoelectronic devices and compared with materials obtained by more conventional depositions techniques.
© FUNDACIO DE LA COMUNITAT VALENCIANA SCITO