Module-Patterned Polymerization towards 2D sp2-Carbon Covalent Organic Frameworks and Their Charge Transport Properties
a
Max-Planck Institute for Polymer Research, Germany, Ackermannweg, 10A, Mainz, Germany
b
Faculty of Science, National University of Singapore, Singapore, Lower Kent Ridge Road, 21, Singapore, Singapore
Poster,
Shuai Fu,
026
Publication date: 11th July 2022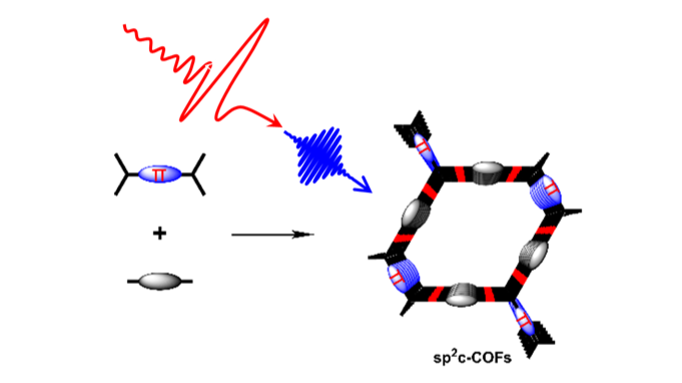 Covalent organic frameworks (COFs) are prototypical crystalline porous materials that hold great promise for organic electronics and optoelectronics. In recent years, C=C bond-formation reactions have been widely used for the synthesis of conjugated polymers, giving rise to numerous fascinating structures with intriguing optoelectronic properties beyond non-conjugated polymers.[1,2] Along with the challenge in the synthesis of high-quality sp2-carbon COFs due to the limited structural accessibility and diversity[3], the relationship between chemical structures and charge transport properties remains elusive.
Here, using optical pump-THz probe spectroscopy, we investigated the role of chemical structures and I2 molecular doping in determining the charge transport properties of a series of sp2-carbon COFs. The investigated sp2-carbon COFs with controlled structural changes were synthesized by a module-patterned polymerization approach based on C=C bond-formation reactions.[4] In this approach, a four-branched C2-symmetric knot module can be generalized to have different π backbones and react with diverse linker units, producing a library of semiconducting 2D sp2-carbon COFs with high crystallinity and tunable bandgap. Our results provide insight into the structure-mobility relationship of sp2-carbon COFs, and demonstrate that the charge mobility of 2D sp2-carbon COFs powder can reach ~50 cm2/(V·s) through rational design and doping engineering.
© FUNDACIO DE LA COMUNITAT VALENCIANA SCITO