Charge Transport and Exciton Formation in Graphene Nanoribbons
a
Max-Planck Institute for Polymer Research, Germany, Ackermannweg, 10A, Mainz, Germany
b
Organic and Carbon Nanomaterials Unit, Okinawa Institute of Science and Technology Graduate University, 904-0412, Japón, Onna, Japan
Poster,
Wenhao Zheng,
028
Publication date: 11th July 2022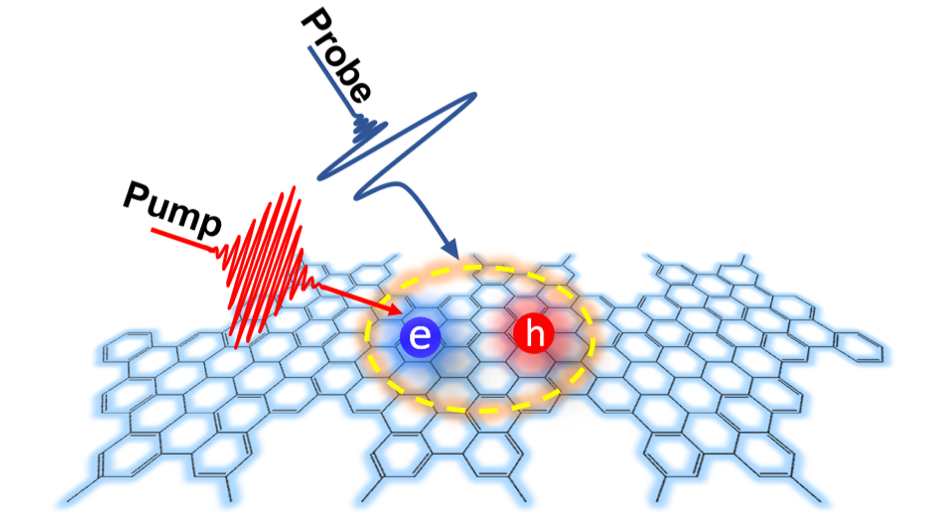 Graphene nanoribbons (GNRs), i.e., one-dimensional strips of graphene, are promising building blocks for next-generation (opto-) electronics.[1] Unlike graphene with (semi-)metallic nature, GNRs exhibit semiconducting behaviors owing to quantum confinement. Furthermore, a fascinating feature of GNRS lies in their versatile electronic and optical properties, which can be precisely controlled (e.g., the edge structure or width) down to atomic levels by bottom-up synthesis.
Employing time-domain terahertz spectroscopy, this poster presents three examples of our recent advances in understanding the dynamics and transport properties of photogenerated charge carriers in atomically precise GNRs: We report an intrinsically strong exciton effects[2] in GNRs, and explore the dynamic screening of photogenerated charge carriers by dielectric solvents in the process of exciton formation[3]; we unveil the role of edge-functionalization of GNRs on dictating their electronic band structure and further on their charge transport properties.[4] These studies provide not only a fundamental understanding of the photophysics and charge transport properties of GNRs, but also highlight their potential for optoelectronic applications.
[1] Rev. Mod. Phys. 2009, 81 (1), 109;
[2] Nano Lett. 2020, 20, 2993;
[3] W. Zheng, et al. in preparation.
[4] J. Mater. Chem. C, 2022, 10, 4173;
Financial support by the Max Planck Society is acknowledged.
© FUNDACIO DE LA COMUNITAT VALENCIANA SCITO