Room-Temperature Sputtered SnO2 Thin Film as an Electron Transport Layer for Mixed-Cation Planar Heterojunction Perovskite Solar Cells
a
Advanced Technology Research Laboratories, Idemitsu Kosan Co.,Ltd., Kanagawa, Japan, 123-1 Shimokawairi, Atsugi, Japan
b
University of Tokyo, Japan, Japan
c
University of Tokyo, Japan, Japan
Poster,
Issei Takenaka,
071
Publication date: 14th October 2019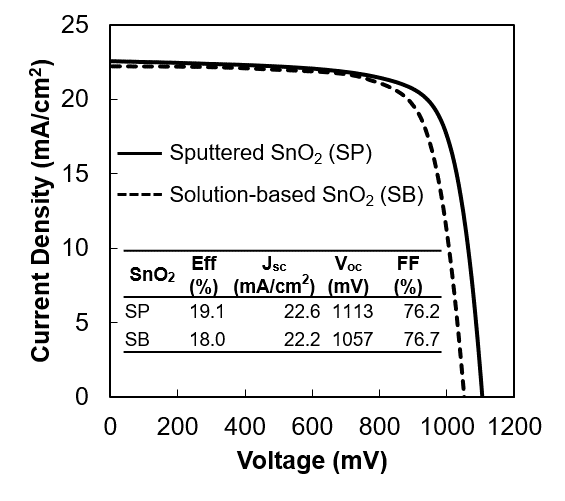 We report room-temperature sputtered SnO2 thin film and its application on perovskite solar cells (PSCs). SnO2 is a promising alternative for TiO2 as an electron transport layer (ETL) of PSCs, providing better stability against UV irradiation [1]. Solution-based SnO2 [2] has been widely used, while room-temperature dry processes such as atomic-layer deposition or sputtering has been less explored.
Here, we investigate room-temperature sputtered SnO2 as an ETL for PSCs using mixed-cation perovskite of FA0.80MA0.15K0.05Pb (I0.85Br0.15)3 and find that sputtered SnO2 exhibits superior power conversion efficiency of 19.1% where solution-based SnO2 shows 18.0%. This performance enhancement is mainly attributed to open-circuit voltage improvement from 1057 to 1113 mV. Coverage, crystalline quality of SnO2 and perovskite layer are investigated. Additional discussion is conducted regarding optical property of SnO2/perovskite interface, resulting in slight increase of the short-circuit current density from 22.2 to 22.6 mA/cm2. Stability test under operational condition and its effect on elemental distribution will be further discussed in the presentation.
© FUNDACIO DE LA COMUNITAT VALENCIANA SCITO