Bifunctional Dye Molecule in All-Inorganic CsPbIBr2 Perovskite Solar Cells with Efficiency Exceeding 10%
a
State Key Laboratory of Fine Chemicals, School of petroleum and chemical engineering, Dalian University of Technology, Panjin, 124221, China.
b
China Jiliang University, Hangzhou, P. R. China, Hangzhou, China
c
Kyushu Institute of Technology, Japan, 204 Hibikino Wakamatsu-ku, Kitakyushu - Fukuoka, 808, Japan
Poster,
Shuzhang Yang,
074
Publication date: 14th October 2019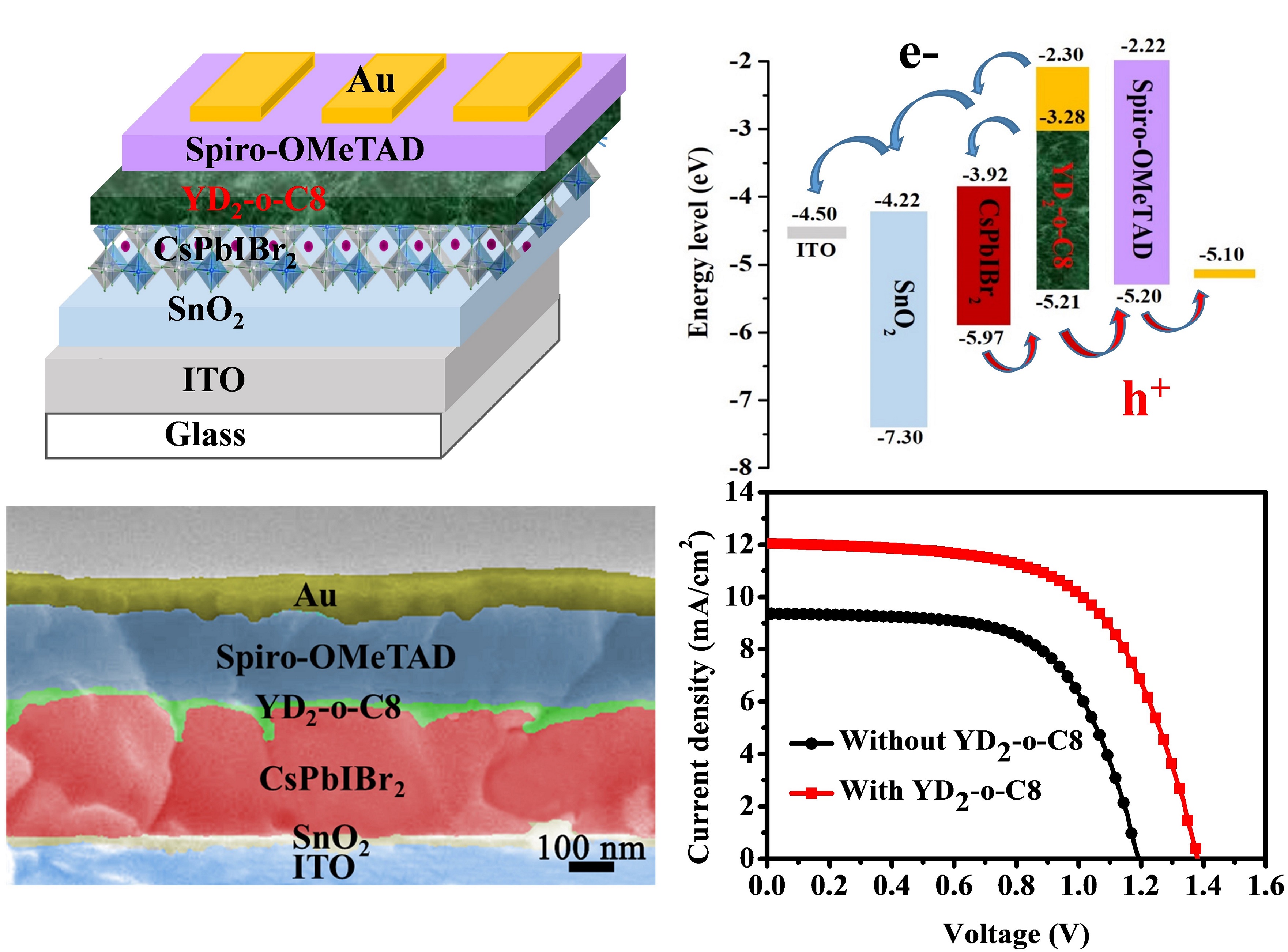 The all-inorganic CsPbX3 perovskite solar cells (PSCs) is a hot topic due to their outstanding thermal stability and high-speed progression in performance. While the low power conversion efficiency (PCE) is a key issue for the inorganic lead halide PSCs. This is mainly due to their wider bandgap and larger energy loss (Eloss) in the devices. In the abstract, we demonstrate a bifunctional dye molecule engineering using the YD2-o-C8 molecule for CsPbI2Br PSCs. Results indicate that this molecule has a bifunctional effect, not only as a co-sensitization layer for CsPbIBr2 with broader absorption spectrum but also reduces the Eloss by interface passivation. Specifically, the light absorption range of the photoactive layer is broadened from 600 to nearly 680 nm. At the same time, the interfacial charge recombination is highly reduced. After optimizing, the champion PCE is enhanced from 7.02% to 10.13%, and record-high open-circuit voltage (VOC) of 1.37 V and short-circuit currents (JSC) of 12.05 mA cm2 are achieved. This study opens a simple and efficient way to improve the efficiency of inorganic PSCs.
Shuzhang Yang gratefully acknowledges fellowships from the China Scholarship Council (CSC) (No. 201806060130). This work was supported by the Grant-in-Aid for Scientific Research (KAKENHI) program, Japan (C, Grant Number 15K05597). and the National Natural Science Foundation of China (Grant No. 51772039, 21703027, 51273032 and 91333104). The authors would like to thank the Research Centre for Solar Light Energy Conversion, Kyushu Institute of Technology for their support.
© FUNDACIO DE LA COMUNITAT VALENCIANA SCITO