Ternary Organic Solar Cells Based on Two Perylenediimide-based Acceptors
a
Osaka University, Japan, FRC, 2-1Yamada-oka,, Suita, 565, Japan
b
Corporate Photoreceptor Division, KYOCERA Document Solutions Inc., Japan
Poster,
Yue Qi,
092
Publication date: 14th October 2019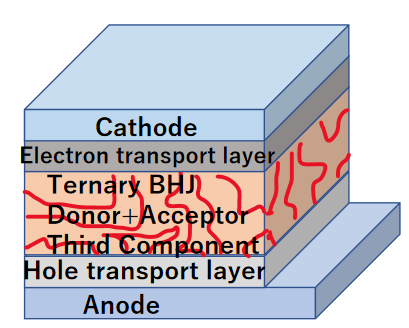 The rapid development of organic solar cells (OSCs) based on non-fullerene acceptors has attracted increasing attention during the past few years, with a record power conversion efficiency of over 15% in a binary bulk heterojunction architecture.[1] A key material for recent high-performance OSCs is a non-fullerene acceptor (NFA), which has exhibited better performance compared to conventional fullerene acceptors.[2] Since NFAs have a much wider variety of molecular structures, there are many possibilities to fabricate ternary organic solar cells (TSCs), which contain a single three- component photoactive layer without need for multiple stacks.[3]
Up to now, research effort on TSCs has mostly focused on donor-donor-acceptor (D-D-A) type, while perylenediimide (PDI) -based ternary devices have been rarely studied.[4]
In this study, ternary OSCs using two acceptor molecules designed with the PDI unit (PDI-1 and PDI-2) as acceptors and PBDB-T as donor were fabricated and characterized. The power conversion efficiency (PCE) of the ternary OSCs was improved by introducing the third component PDI-2, compared to the binary OSCs composed of PBDB-T and PDI-1. This improvement is attributed to a cascade-like energy level alignment.
© FUNDACIO DE LA COMUNITAT VALENCIANA SCITO