SolDAC: LCA-based Ecodesign Approach to Support Carbon Neutral Production of Ethylene
a
LOMARTOV SL, Valencia, Spain
Poster,
Edgar Contreras,
372
Publication date: 22nd December 2022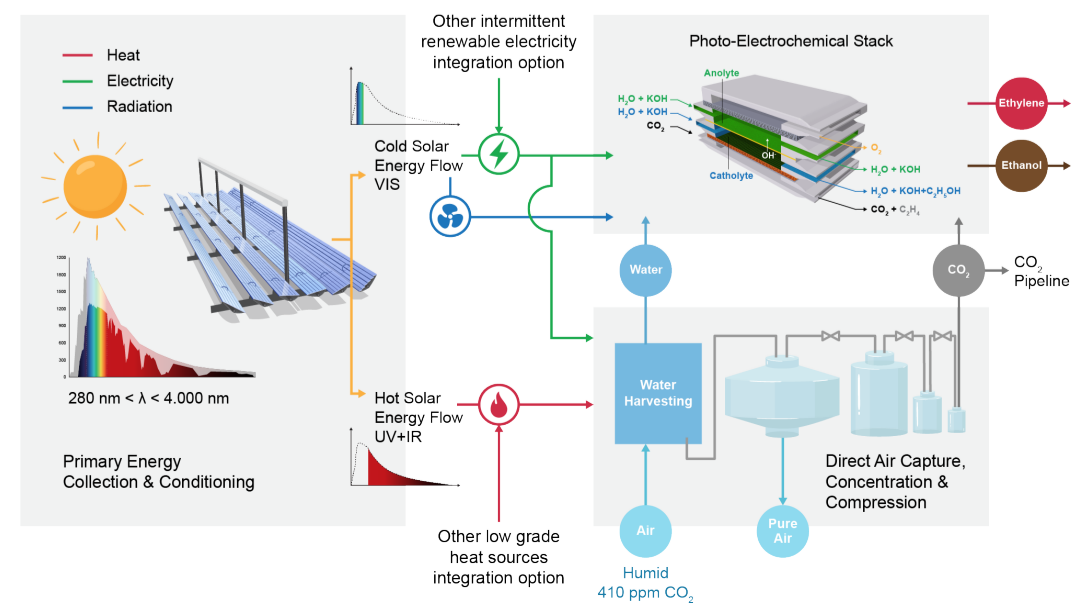 SolDAC's main ambition is to reinvent ethylene production ­— a primary building block of the chemical industry — with an emerging breakthrough technology that is both technically and economically competitive as well as carbon neutral. This novel approach produces ethylene and by-product ethanol by means of the integration of three units with optimized efficiencies with respect to their corresponding state-of-the-art. The production of ethylene and by-product ethanol (C2 products) from atmospheric CO2 and water is carried out via electrolysis in a PhotoElectroChemical (PEC) conversion unit. Both CO2 and water are provided by an innovative low-temperature Direct Direct Air Capture (DAC) unit that implements novel step-isotherm materials for high sorption from air. The system's carbon neutrality is enhanced even further by self-supplying its energy needs with a Full-Spectrum Solar (FSS) collection unit able to split solar energy for electricity and heat generation.
SolDAC's development is thoroughly screened through an LCA-based eco-design approach comprising aspects such as material criticality, environmental impacts, and techno-economic feasibility; ensuring the environmental responsibility and social acceptance of the project.
This poster is part of the SolDAC (Full spectrum SOLar Direct Air Capture & conversion) project and has received funding from the European Commission H2020 Programme under Grant Agreement No. 101069359.
© FUNDACIO DE LA COMUNITAT VALENCIANA SCITO