Book tickets in advance prior to January 2nd.
IMPORTANT: Non vegetarian menu available. We will confirm complete menu in coming months for dietary restrictions.
Dinner will take place at Shushinkan Brewery Hall located at the Nada, the Sake Brewery District in Kobe.
With over two hundred and fifty years of tradition, the Shushinkan brewery in Kobe offers all visitors an authentic and premium experience, with some of the finest sake you'll find anywhere in Japan.
A Japanese Kaiseki dinner will be served (seating style).
Kaiseki ryori (会席料理) is traditional Japanese multi-course haute cuisine. Its origins are found many centuries ago in the simple meals served at the tea ceremony, but later it evolved into an elaborate dining style popular among aristocratic circles. Today, kaiseki is served in specialized restaurants.
Kaiseki meals have a prescribed order to their dishes, most of which are prepared by using one of the common techniques of Japanese cooking. However, kaiseki chefs have considerable freedom to add, omit or substitute courses in order to highlight regional and seasonal delicacies and personal style.
Check here for a list of courses as they typically appear in a kaiseki meal: https://www.japan-guide.com/e/e2348.html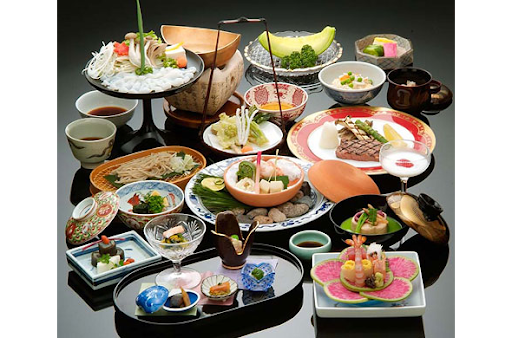 Fukuju sake will be offered for tasting. Menu includes all you can drink.