Description of the conference
The Materials for Sustainable Development Conference (MATSUS23) took place in Torremolinos, Spain from the 16th to the 20th October 2023.
It consisted on a combination of symposia of basic and multidisciplinary science and applied symposia focused on Sustainable Development areas. It was a forum for directing the knowledge and tools of science and technology of advanced materials to contribute to solve major problems of society.
The Materials for Sustainable Development Conference discussed traditional topics of the nanoGe Fall/Spring Meeting multisymposium conference such as:
Halide Perovskites
Organic Photovoltaics
Solar Fuels
Nanocrystals & 2D materials
Catalysis & Electrocatalysis
Energy Storage
MATSUS included new topics such as:
Organic mixed ionic electronic conductors
Bioelectronics
Biobased functional materials
It also included the industrial application part in areas like:
Clean Energy Transition (decarbonization, sequestration and use of CO2 in industry, and hydrogen generation)
Sustainable Chemistry and circularity
Expansion of photovoltaics
Sustainable transport.
By the name of MATSUS (Materials for Sustainable Development) the conference has two yearly editions, Spring Meeting and Fall Meeting.
The conference will be held in Torremolinos (Spain) at the conference center of the Meliá Costa del Sol Hotel.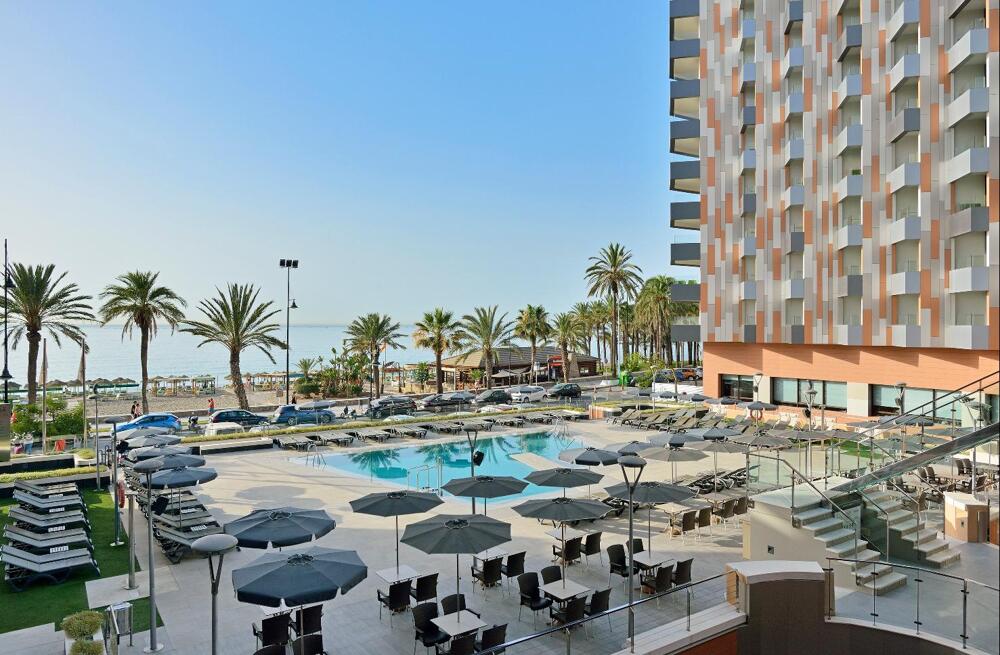 Address: P.º de Maritimo Torremolinos, 11, 29620, Torremolinos, Málaga, Spain
Telephone: (+34) 952 38 66 77
Symposium organizers:

Derya Baran

King Abdullah University of Science and Technology (KAUST) - Saudi Arabia

Simone Fabiano

Linköping University

#BIOEL - Bioelectronics

Neuronal Bioelectronic interfaces
Bioelectronic Implants
In vitro Bioelectronic Systems
Optical Stimulation of living systems
Biosensing
Neuromorphic Bioelectronics

Symposium organizers:

Christopher Proctor

University of Cambridge

Francesca Santoro

RWTH Aachen University

Achilleas Savva

Delft University of Technology

#BIOELCHEM - Bioelectrochemical Systems from Sustainable Electrode Materials

Microbial/ cell-based electrochemical systems
On-chip enzymatic assays
Engineering biotic-abiotic interfaces
Self-powered biosensors
Sustainable electrode materials for catalysis
Photo-bioelectrocatalysts
Enzymatic biosensors
Sustainable electrodes and materials
Organic electronics for biocatalysis
2D materials for biocatalysis

Symposium organizers:

Ioanna Mela

University of Cambridge

Anna-Maria Pappa

Khalifa University of Science and Technology

Kyriaki Polychronopoulou

Khalifa University of Science and Technology

Symposium organizers:

Giuseppe Maria Paternò

Dipartimento di Fisica, Politecnico di Milano

Vito Vurro

Alma Mater Studiorum Università degli studi di Bologna

#WATERCAT - Experiment and theory in the catalysis of water electrolysis and hydrogen fuel cells

Understanding electrocatalysts activity and stability: application of operando experimental techniques
Understanding electrocatalysts activity and stability: application of advanced theoretical methods
Knowledge-driven design and synthesis of improved electrocatalysts and catalyst layers
Discovery of new electrocatalytic materials using automatic and autonomous tools
Electrochemical engineering: optimization of electrocatalysts utilization in electrochemical reactors

Symposium organizers:

Serhiy Cherevko

Forschungszentrum Jülich GmbH

Nejc Hodnik

National Institute of Chemistry

#N2X - Recent advances on nitrogen activation and conversion

Homogeneous approaches for nitrogen and nitrogen oxides activation
Heterogenous systems for nitrogen and nitrogen oxides conversion
Challenges and opportunities in catalyst benchmarking
Advances in theoretical methods for mechanistic understanding
Rare-earth element systems for nitrogen activation
From academic research to competitive start-up company

Symposium organizers:

Nella Vargas-Barbosa

Forschungszentrum Jülich - Helmholtz-Institut Münster

Roland Marschall

University of Bayreuth, Germany

Symposium organizers:

Alexander Bagger

Department of Chemical Engineering, Imperial College London, SW7 2AZ, UK

Yu Katayama

Osaka University, SANKEN (Institute of Scientific and Industrial Research)

Ana Sofia Varela

National Autonomous University of Mexico

#MATSF - Advanced materials for the production of direct solar-driven fuels and chemicals

Direct solar water splitting (hydrogen evolution, oxygen evolution,…)
Direct solar-driven valorization reactions of CO2, biomass, organics, and/or plastics
Novel semiconductor and co-catalyst materials for PEC and PC (e.g., ternary oxides, perovskites, 2D materials, organics, MOFs, COFs, and SACs)
Novel architectures and approaches for PEC and PC (e.g., heterojunction, Z-scheme, tandem, and decoupled cells or systems)
Advanced characterization techniques (e.g., in-operando) of PEC and PC systems covering e.g., performance, stability, charge transfer dynamics, and syntheses

Symposium organizers:

Salvador Eslava

Imperial College London

Sixto Gimenez Julia

Universitat Jaume I, Institute of Advanced Materials (INAM) - Spain

#DEVSF - Solar fuels: moving from materials to devices

Photoelectrochemical reactor engineering – Experimental approaches
Photoelectrochemical reactor engineering – Multiphysics modelling approaches
Material charge transfer and interfacial charge transfer modelling and evaluation
Thermo-photo-electrochemical system integration – understanding synergetic effects
Photoelectrode and surface engineering via scalable methods
Corrosion/photo-degradation in photoelectrochemical devices and mitigation strategies
Understanding of photoelectrochemical systems on the atomic scale, from experimental to ab initio modelling

Symposium organizers:

Franky Esteban Bedoya Lora

École Polytechnique Fédérale de Lausanne (EPFL)

Anna Hankin

Imperial College London, United Kingdom

Camilo A. Mesa

Universitat Jaume I, Institute of Advanced Materials (INAM) - Spain

#HOMHET - Bridging The Gap Between Homogeneous and Heterogeneous (Photo)-Electrocatalysis

Novel catalytic materials (e.g. MOF, COF, Carbon Nitride, Organic and Inorganic materials) inspired by molecular catalysts
Catalytic schemes for environmental remediation
Bio-inspired molecular catalysts
Study of catalytic mechanisms
Advancements in Water splitting, CO2 reduction, Ammonia production, biomass conversion and other organic transformation reactions

Symposium organizers:

Idan Hod

Ben-Gurion University of the Negev, Israel

Elena Mas Marzá

Universitat Jaume I, Institute of Advanced Materials (INAM) - Spain

Menny Shalom

Ben-Gurion University of the Negev, Israel

#EMERBAT - Emerging battery technologies

Beyond Li-ion
Operando Characterisation
Advanced applications
Understanding the SEI
Advanced fabrication methods
Multiscale modelling
Sustainability, recyclability, LCA and circularity
'Whole system' optimisation approaches

Symposium organizers:

Philipp Adelhelm

Humboldt University Berlin

Maria Crespo

Queen Mary University of London

Guiomar Hernández

Uppsala University

#NextED - Next generation of electrochemical devices

Photo(electro)chemical effects
Mixed ionic-electronic conductivity
Advanced tools for in-situ and operando characterization
Integration for novel applications such as (photo)catalysis, (photo)batteries, and synaptic transistors

Symposium organizers:

Moritz Futscher

EMPA - Swiss Federal Laboratories for Materials Science and Technology

Angus Mathieson

University of Cambridge

#AppPV - Application Targets for Next Generation Photovoltaics

Light-weight, high power density PV for communications/aerospace-related technologies
Stability testing of perovskites and organic solar cells
Scaling of organic and perovskite solar cells for large-area devices
Semi-transparent solar cells and building integration of PV technologies
Indoor PV for Internet of Things (IoT)
PV-battery integration and system architectures
Printable solar cells and environmentally friendly manufacturing
PV cost and life cycle analysis

Symposium organizers:

Ardalan Armin

Sustainable Advanced Materials (Sêr-SAM), Department of Physics, Swansea University, UK

Marina Freitag

School of Natural and Environmental Sciences, Newcastle University, UK

Michael Saliba

University of Stuttgart

#NANOFUN - Functional Nanomaterials: from optoelectronics to bio- and quantum applications

Chemistry: new synthesis methods, novel surface chemistry, self-assembly, new compositions
Optical spectroscopy: carrier dynamics at ensemble and single dot or 2D-layer level, stimulated emission, photon statistics
Theory: band structure calculations, exciton-phonon coupling, fine-structure splitting
Optoelectronics: LEDs, microcavity laser, photodetectors etc.
Far reaching applications: single photon emission, collective quantum state of light, super resolution microscopy, bio applications

Symposium organizers:

Milena Arciniegas

Istituto Italiano di Tecnologia (IIT)

Iwan Moreels

Gent University - BE

Gabriele Raino

Swiss Federal Institute of Technology ETH Zurich

#MHPN3 - Fundamental Advances in Metal Halide Perovskites and Beyond: new materials, new mechanisms, and new challenges

New mechanisms and new phenomena in halide perovskites:
Advanced spectroscopy studies, hot carriers, polarons, excitons
Spins and chirality, exciton fine structure, quantum light-sources, exciton-polaritons
New computational insights, defects, anharmonicity, self-trapping
Lead-free Perovskite-Tin perovskite, double perovskite, perovskite-inspired materials:
Suppression of tin oxidation in tin perovskite, defects in tin perovskite/double perovskite
Perovskite-inspired metal halides and chalcogenides
Energetic level alignment modification
Additive incorporation, novel ETM/HTM, Novel device structure

Symposium organizers:

Paola Vivo

Tampere University

Qiong Wang

Helmholtz-Zentrum Berlin für Materialien und Energie GmbH, Germany

Kaifeng Wu

Dalian Institute of Chemical Physics, Chinese Academy of Science

Symposium organizers:

Sandrine Heutz

imperial College London

Rachel Kilbride

University of Sheffield

Jess Wade

Imperial College London